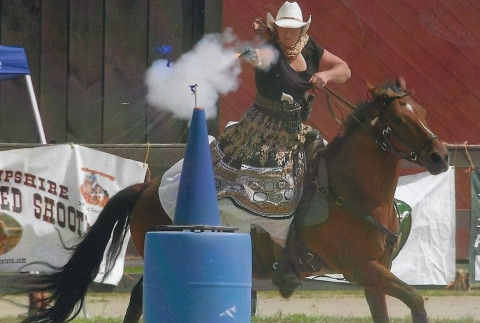 Over 20 years as a professional trainer, and A lifetime of experience of riding western. Mostly on trails, and in plenty of events. I will teach you skills to keep you safe in the saddle. You will learn what to do in an emergency situations BEFORE they ever happen. Many riding instructors in the New England area have never even ridden out side of the ring. Most teach only English and have a western saddle for those that may want to try western riding, but they are not really "western" I have ridden in the cactus covered foothills out West where I was born and raised by a horse trainer. (my Mother) and in the heavily wooded rural trails in Upstate NY where I lived for many years. I have put the first rides on over 400 young horses and retrained well over a thousand problem horses. I ridden in many varied places with my own horses that I trained from babies. Places like The colisuem at the Eastern States Expo, Topsfield Fairgrounds, Forest Park Zoo, Belmont Race track. I team pen, do versatility events and compete in Cowboy Mounted Shooting. I've have participated at many events and venues, shooting a gun off the back of my horse. In parades and fairs all over New England. I can teach you to ride if you have never been on a horse. I can enhance your skills no matter what discipline you ride, expert or novice. Need confidence after a bad experience? I can help. We will progress at your speed, and at your level. If you want to stay in the ring we can do that, venture out on our lovely trials, or try your hand at versatility or chasing cows, at a team penning event.
Give me a call if you want to learn from a seasoned pro
$55.00 for a private hour ground session. Riding lessons $65.00 Have your own horse? Bring your horse to my farm $80.00 per hour.
These are all private lessons. Licensed and insured. I have helmets if you don't have your own, you must wear riding boots or a shoe/boot with a heel.
Specialties
2. Ranch Horse Versatility Training
6. Boarding
All Around
All Around Horse Training
All Breeds
Appaloosa And Mustangs.
AQHA
Bare Foot Horse Trimming
Beginner Riders Welcome!
Bitless Bridle Trainer
Bitless Brilde Instructor
Boarding / Training / Lessons / Hunter / Jumper / Western Pleasu
Boarding.
Breaking & Starting Western Horses
Building Confidence
Clinics
Colt Starting
Common Sense Training With Open Communication
Cowhorse
Demonstrations
Desensitization
English Disciplines
Equestrian Safety Education Classes
Foundation Training
Gaited Horses
Groundwork
Halter Breaking Foals
Halter Training
Hauling
Help With Purchasing A Horse
Horse Tune-Ups
Horsekeeping Instruction
Horsemanship
Horsemanship Lessons
Leasing
Local Transport
Local Trucking
Lunging
Mobile Training
Mustangs
Natural Horsemanship Trainer
Pony Training
Problem Horse Trainer
Ranch Horse
Rescue Horses
Round Penning
Team Penning
Trail Or Pleasure
Trail Skills Clinics
Trailer Loading Training
Training
Training Safe Trail Horses
Transition To Dr. Cook's Bitless Bridle
Truck In
We Focus On Safety And Learning Communication With Your Horse
Western Dressage
Western Riding Clinics
Western Riding Lessons
Young Horses