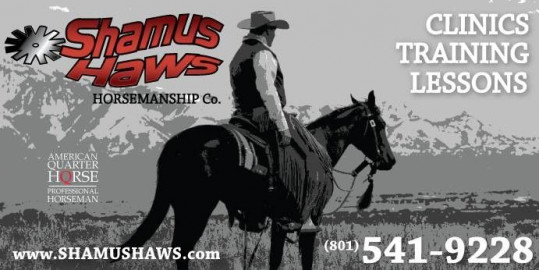 Learn from world renowned horseman, Shamus Haws. Whether it be novice, intermediate, or professional. Shamus is an AQHA Pro Horseman, a 2X winner of "Best Horseman in Utah", Road to the Horse Wild card competitor & a Horsemen's Re-Union Invitee. With more than 30+ years of quality horse riding experience Shamus Haws has the knowledge and skills to accommodate any of your horse riding needs... from basic riding 101 to show ready. Shamus Haws specializes in , problem horses, reined cowhorse, confidence building, training,clinics and lessons for those with their own horses. Let Shamus help you create that soft, responsive and willing partnership with your horse. The best way to reach us is through www.shamushaws.com
Shamus Haws' goal is always to teach and keep horses soft, supple, balanced, responsive and willing, helping both horse and rider achieve their goals together. He has been training horses and conducting horsemanship clinics throughout the western United States for years. Shamus Haws loves the challenge of convincing horses to "want to," rather than making them "have to." Shamus has been noted as being a master at helping both horse and rider become partners in a working team together.
www.shamushaws.com
Specialties
4-H
All Around Horse Training
APHA
AQHA
Barrel Racing
Beginner Riders Welcome!
Body Control
Breaking & Starting Western Horses
Breeding
Building Confidence
Colt Starting
Conditioning
Confidence Building
Cutting
Demonstrations
Desensitization
English Disciplines
Experience With Quarter Horses
Gaited Horses
Groundwork
Halter Training
Help With Purchasing A Horse
Horse Finishing
Horse Tune-Ups
Horsekeeping Instruction
Horsemanship
Lessons
Mustangs
Natural Horsemanship Trainer
Problem Horse Trainer
Reining Training
Sales And Training
Show Judge
Team Roping
Trail Or Pleasure
Trailer Loading Training
Training
Training Safe Trail Horses
Utah
We Focus On Safety And Learning Communication With Your Horse
Western Equitation
Western Horses for Sale
Western Pleasure Horse Training
Western Riding Clinics
Western Riding Lessons
Western Show Coaching
Young Horses