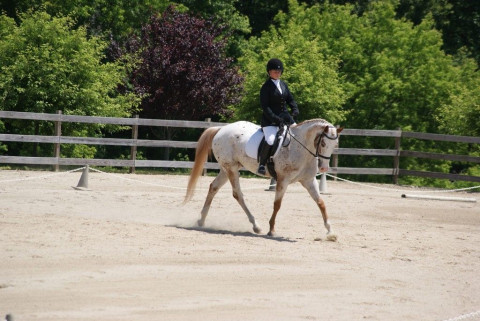 We offer lessons and training in all disciplines and all levels. With over 40 years of professional experience we are confident we will be able to make your goals a reality. From initiating the learning process in young horses, to putting finishing touches on advanced show horses, and by redirecting horses that have acquired bad habits, our training program can meet your needs!
Our training techniques are applied with patience, consistency and direction. We will not rush your horse's education but will help your horse move forward at a comfortable pace. With our extensive knowledge and experience working with multiple breeds and disciplines, we are confident we can fulfill your training requirements for the show pen or the pleasure horse.
We offer lesson programs ranging from beginner youth and adult riders to advanced show competition. Our emphasis is on teaching the riders to become skilled at placing more importance on the quality of their own performance than on that of their horse. Trailering in with your horse is always welcome. Whether you want to compete or simply trail ride, we will help you do it comfortably and effectively.
We specialize in:
Colt Starting
Long Lining
Classical Dressage & Western Dressage
Reining
Western Pleasure
Hunters
Clinics on different subjects of 5 or more in New England, NY, PA & MD
We have a 16 stall main barn and a 3 stall out barn
10x12 & 12x12 stalls
Horses are fed 3 times per day
Stalls are cleaned daily
No extra costs for blanketing, holding horses for vet/farrier
Individual turnouts
Indoor & Outdoor rings
50 acres
Visit our website to see more of what we offer and what we do!
Specialties
All Around
All Around Horse Training
Beginner Riders Welcome!
Breaking & Starting Western Horses
Building Confidence
Clinics
Colt Starting
Conditioning
Desensitization
English Disciplines
Experience With Quarter Horses
Foundation Training
Groundwork
Halter Training
Horse Tune-Ups
Horsemanship
Problem Horse Trainer
Ranch Horse
Reining Training
Trailer Loading Training
Training
Training Safe Trail Horses
We Focus On Safety And Learning Communication With Your Horse
Western Dressage
Western Equitation
Western Pleasure Horse Training
Western Riding Clinics
Western Riding Lessons
Western Show Coaching
Working Western
Yearling Lunge Line
Young Horses
Young Riders Welcome!