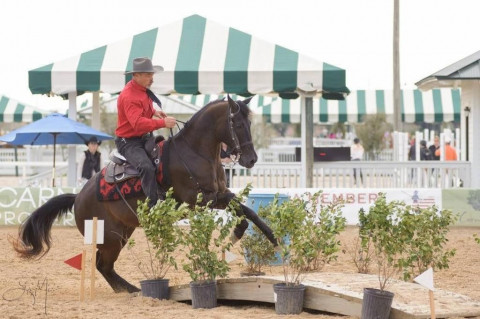 What is Working Equitation?
At the international level, WE is a four-phase sport which combines the art and disciplines of classical dressage with the agility and control required when working horses in the field (ranch horse).
Based on the traditional horsemanship used on continental cattle farms in Europe, the horse and rider are tested on their skill, speed, and accuracy. The sport began as a competition in Italy in 1996 and has since gained popularity worldwide in countries including Portugal, Spain, Mexico and France.
The four-phase competitions are ridden entirely with only one hand on the reins in the walk and canter. They comprise an advanced dressage test, followed by an obstacle course, judged on style. Competitors are then required to ride a timed obstacle course judged on speed with a final element consisting of a cattle-penning test.
At the local level in USA, there are three phases with progressive training levels that allow you to ride with two hands at the walk and trot.
Specialties
4-H
All Around Horse Training
APHA
AQHA
Colt Starting
Conditioning
English Disciplines
Horse Finishing
Horse Tune-Ups
Horsemanship
Natural Horsemanship Trainer
We Focus On Safety And Learning Communication With Your Horse
Western Dressage
Western Equitation
Western Riding Clinics
Western Riding Lessons
Western Show Coaching
Young Horses
Young Riders Welcome!