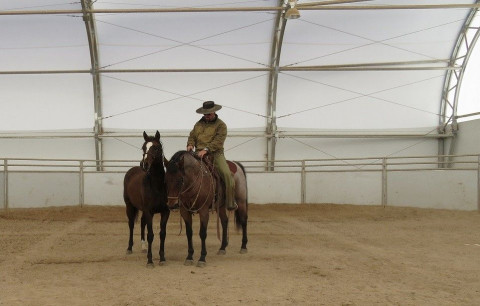 If you are like the majority of horse owners, you love horses and all the great things they add to our lives. You are wanting some basic things from your time and relationship with your horse. You want to have fun and enjoy the times you spend in the saddle riding and interacting with your horse. You need to be able to do these things in a way that will keep both you and your horse safe. You desire the information, knowledge and know how to teach and communicate to your horse so you can accomplish and fulfill your goals safely and effectively. Lastly, you what to know that the professional you choose to spend your hard earned money with, will be honest, trustworthy and considerate of both you and your horse. If this all sounds about right? Well then let me introduce myself.
My name is Chris Bohenek throughout my 20+ years I have had the privilege to have started, finished, re-trained and helped over 3,500 horses of all shape sizes and breeds. I have been blessed with the opportunity to have met and helped hundreds of people in their pursuit of knowledge understanding, safety and enjoyment around their equine partners.
Do you have questions for me about your horse or about availability ? Do you want to know about up coming clinics, lessons and demos or wish to host a clinic or demo at your facility? Maybe you are in the market for a new horse?
Services Offered:
- Clinics
- Training
- Lessons
- Horses for sale
- Farrier services
- Horse consultation
WEBSITE: www.bohenekhorsemanship.com
EMAIL:
Specialties
1. Reined Cow Horse Training
2. Ranch Horse Versatility Training
4-H
8. Arena Access With Cattle Or Flag
All Around
All Around Horse Training
Also Specializing In Ranch Horse Pleasure
Amateur
And Green Brokes.
And Tune Ups
APHA
APHA & PHBA
Appaloosa And Mustangs.
AQHA
AQPA
Arabian Showing
Bare Foot Horse Trimming
Barefoot Trimming
Barrel Racing
Beginner Riders Welcome!
Boarding / Training / Lessons / Hunter / Jumper / Western Pleasu
Boarding.
Breaking & Starting Western Horses
Broker Services
Building Confidence
Clinics
Coaching
Colt Breaking
Colt Starting
Common Sense Training With Open Communication
Competitive Trail
Conditioning
Consulting
Cow Horse
Cowboy Dressage
Cowhorse
Cutting
Demonstrations
Desensitization
English Disciplines
English Riding Lessons
Equestrian Safety Education Classes
Equine Body Work
Establishing A Foundation
Experience With Quarter Horses
Farrier Service
Foundation Training
Full Or Partial
Futurity
Futurity Prospects
Gaited Horses
General Exercising
Groundwork
Halter Training
Hauling
Help With Purchasing A Horse
Horse Finishing
Horse Training
Horse Tune-Ups
Horsekeeping Instruction
Horsemanship
Horsemanship And Low Stress Cowman-ship Clinics And Lessons
Hunt Seat
Hunt Seat Equitation
Hunter Pleasure
Leasing
Lessons
Local Transport
Low Stress Cowman-ship Clinics
Mobile Training
Mustangs
Natural Horsemanship Trainer
NRCHA
NRHA
Pony Training
Problem Horse Trainer
Reining Training
Rescue Horses
Riding Lessons
Round Penning
Sales
Sales And Training
Show Judge
Showing
Team Penning
Team Roping
Trail Horse Training
Trail Or Pleasure
Trail Skills Clinics
Trailer Loading Training
Training
Training Safe Trail Horses
We Focus On Safety And Learning Communication With Your Horse
Western Dressage
Western Equitation
Western Horses for Sale
Western Pleasure Horse Training
Western Riding Clinics
Western Riding Lessons
Western Show Coaching
Working Cow Horse
Working Western
Yearling Lunge Line
Young Horses
Young Riders Welcome!