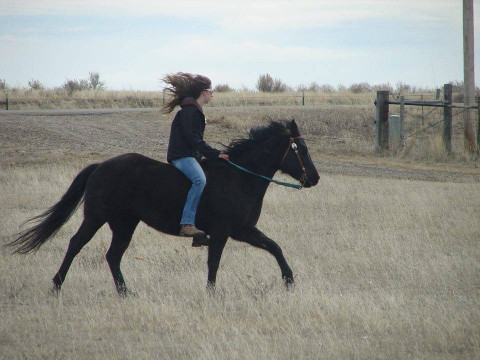 At Rebellion Performance Horses it is my goal to provide quiet, respectful horses for in and out of the arena. I am a young, responsible, motivated trainer with a lifetime of horse experience, sixteen years spent competing in rodeo and horse shows as well as working ranches and nearly a decade of starting colts for a variety of disciplines. I was also fortunate enough to spend a year as an apprentice with NRHA trainer and well known colt starter Brent Loseke.
A heritage of Montana cattle ranching and work experience in the heart of 'Horse Country USA' has given me the opportunity to develop a colt starting program that combines tried and true cowboy methods of starting young horses with the more polished methods I have studied since moving to Texas. Most importantly I allow each young horse to develop at their own speed and never push them too far beyond their mental and physical capabilities. The correct balance of patience and hard work makes for eager and willing horses ready work in the rodeo and show arena as well as on the ranch. $600/Month
Training - If your horse already knows the basics but needs some further education or just isn't performing at the level you want I am here to help. There is no need for barrel horses that can't walk down the alley or rope horses that won't stand flat footed so I make it a point to keep all training as low stress as possible to ensure the best results for you and your horse. $600/month
Tune-Ups - Sometimes a horse gets injured or develops a bad habit. Why put them into full training when 30 days could be all they need? 30 days of concentrated work focusing on the cause of the problem or simply a month of slow, steady work to get them legged back up and ready to compete. $500/Month
Lessons - A limited number of lesson spots are available at Rebellion Performance Horses, for youth and adults. Instruction focuses on horsemanship first and competition second. $50/lesson (minimum requirement of 4 lessons/month)
If you are looking for a trainer that is both professional and affordable call Jessica at or email me at
Specialties
4-H
All Around
All Around Horse Training
Amateur
AQHA
Barrel Racing
Beginner Riders Welcome!
Breaking & Starting Western Horses
Building Confidence
Coaching
Colt Starting
Conditioning
Desensitization
Experience With Quarter Horses
Family Friendly Atmosphere. Come And Join Us!
Groundwork
Help With Purchasing A Horse
Horse Tune-Ups
Horsemanship
Lessons
Problem Horse Trainer
Ranch Horse
Reining Training
Sales And Training
Team Roping
Trailer Loading Training
Training
We Focus On Safety And Learning Communication With Your Horse
Western Horses for Sale
Western Riding Lessons
Western Show Coaching
Young Horses
Young Riders Welcome!