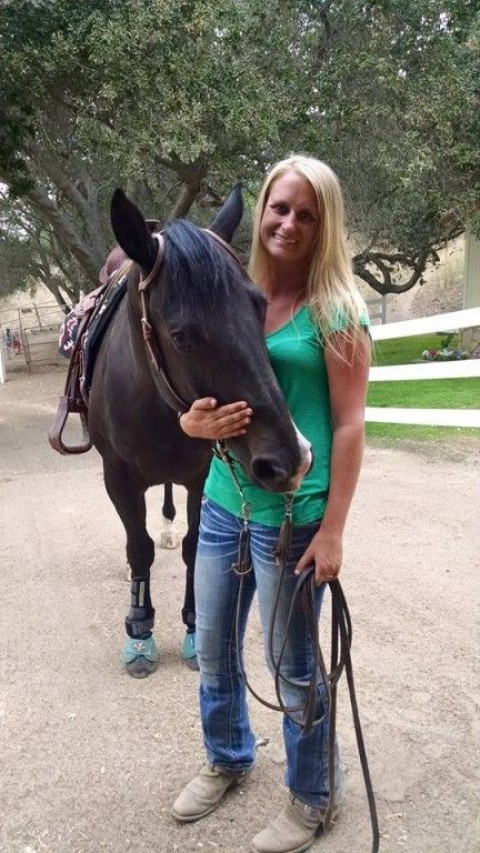 My name is Ann Simon, I run Simon Horsemanship LLC. I grew up with horses and they have always been a passion of mine. I have been training and teaching for 13 years and have had the opportunity to work for and learn from some of the best trainers in the industry. I specialize in ground work, starting & finishing, tune- ups and problem solving. I have worked with horses of many different, levels, breeds, temperaments and disciplines including young-senior horses, barrel racers, reiners, cow horses, trail horses and kids horses/ponies. I work to create a willing, fun and educated equine partner for every owner. I also believe in the importance of educating the owner so that they can become a better leader for their horse.
In addition to training services, I offer beginner-advanced lessons. I teach all around horsemanship, creating not just good riders, but great horseman that understand horse behavior and psychology. If you do not have your own horse, my lesson horses may also be available to lease to the right person. This way you can enjoy the benefits of owning a horse without all the cost/responsibility or you can get ready to own a horse of your own. I have helped many students find the horse of their dreams and can help you as well when you are ready.
I love kids and enjoy working with youth riders of all levels ages 7 and up. We plan show days, camp days, fun events and more. In addition, I am certified by PATH INT'L to teach therapeutic horseback riding and enjoy teaching riders of all abilities.
We are located at Pleasants Valley Riding Arena in Vacaville. We have a huge 140x280 covered arena and two covered round pens, dust treated, lighted and great footing. Trails are also available. There are 12x14' stalls with runs attached or box stalls available and horses are fed 3x per day. Lesson horses are also available and trailer-ins are welcome too.
Please go to Watch Youtube Video to watch some testimonials from clients in my previous location in Anaheim Hills. Or visit my Facebook page at www.Facebook.com/Simonhorsemanship for more information.
Specialties
2. Ranch Horse Versatility Training
4-H
All Around
All Around Horse Training
Amateur
And Green Brokes.
And Tune Ups
APHA
AQHA
Barrel Racing
Beginner Riders Welcome!
Boarding / Training / Lessons / Hunter / Jumper / Western Pleasu
Breaking & Starting Western Horses
Building Confidence
Coaching
Colt Starting
Common Sense Training With Open Communication
Competitive Trail
Consignment Sales
Cowboy Dressage
Cowhorse
Desensitization
Equestrian Safety Education Classes
Experience With Quarter Horses
Family Friendly Atmosphere. Come And Join Us!
Foundation Training
Groundwork
Halter Training
Help With Purchasing A Horse
Horse Finishing
Horse Training
Horsemanship
Leasing
Lessons
Mobile Training
Problem Horse Trainer
Ranch Horse
Reining Training
Rescue Horses
Riding Lessons
Round Penning
Sales And Training
Trailer Loading Training
Training
Training Safe Trail Horses
We Focus On Safety And Learning Communication With Your Horse
Western Dressage
Western Equitation
Western Horses for Sale
Western Riding Clinics
Western Riding Lessons
Western Show Coaching
Working Western
Yearling Lunge Line
Young Horses
Young Riders Welcome!