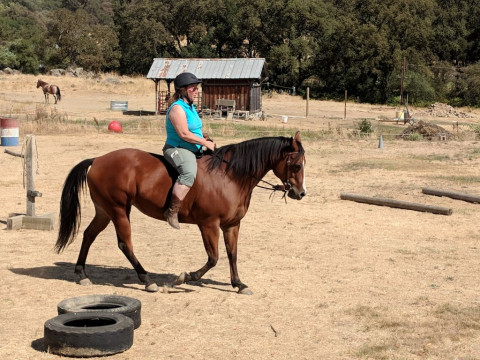 AB Equestrian- "I spent 2 years at Feather River College studying Equine Studies, Ranch Skills and Agriculture Science under Chuck Mills. Along with Sterling Lambert, William Bueginig, and Jesse Segura. At Sierra College I took 2 years of Equine Colt Starting under Jack Owens. Over the years I have had the honor of working with David Lichman-10 years, Russell Grossman-12 years, Felicia Tracy-16 years, Valerie Greenwell-14 years, Lisa Bradley-8 years. I trained with David Lichman to receive my Level 4 in all Four Savvy's certification. Parelli Natural Horsemanship is my foundation but some don't always respond well to the techniques. When an issue arises between horse and rider I will work with them using different ideas to find the best suited technique to accomplish the task for the individual pair.
For example: trailer loading, standing while being mounted, spooking on the trail, bolting when spooked on trail, respectful for owners space on the ground, collecting in all gaits, freeing up the shoulder under saddle, water crossings just to name a few."
Join AB Equestrian if you want to improve your partnership in the show ring or just to be able to enjoy horses without the lost connection. At AB Equestrian we work with owners whom are not able to ride and those that are competing in Grand Prix along with rehabilitating horses mentally and physically.
Lessons at AB Equestrian:
Private Lessons $50 per Session (90 minutes)
Group Lessons $40 per Session (3 hours) Tuesdays 4pm-7pm and Thursdays 9am-noon (Only June- September)
Open rides with your own horse $15 (2 hours on Thursdays 3pm-5pm)
​Birthday Parties with the horses available (Rates depend on location) ​
Private Training of Horse and Rider $40 an hour
Show your horse at a competition: Owner pays Entry fees and gas.
Rehab Workouts: $20 for 30 minutes (Lunging/Hand walking)
Specialties
4-H
All Around
All Around Horse Training
APHA
AQHA
Beginner Riders Welcome!
Breaking & Starting Western Horses
Building Confidence
Conditioning
Desensitization
Experience With Quarter Horses
Groundwork
Halter Training
Horse Finishing
Horse Tune-Ups
Horsekeeping Instruction
Horsemanship
Natural Horsemanship Trainer
Problem Horse Trainer
Reining Training
Trail Or Pleasure
Trailer Loading Training
Training Safe Trail Horses
We Focus On Safety And Learning Communication With Your Horse
Western Dressage
Western Equitation
Western Horses for Sale
Western Pleasure Horse Training
Western Riding Clinics
Western Riding Lessons
Western Show Coaching