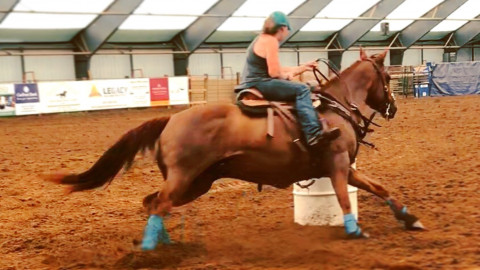 I'm a professional farrier and trainer currently residing in Maple Plain MN. Before deciding to pursue Horseshoeing in my career I trained horses full time in Nebraska, Georgia, and Minnesota. I am currently much more limited on how many training horses or students I will take into my program but do have occasional openings for the right match.
I've worked and studied under three different trainers over the years. The first working with "problem" horses, rank horses, and horses that had been deemed dangerous for most people. I also worked for Jason English Show Horses as an assistant trainer, starting colts and preparing them to show as far as AQHA World, NSBA World, AQHA Congress, etc. in Western pleasure, Hunter under saddle, trail, Horsemanship, all around, and ranch pleasure. Multiple horses I trained went on to become AQHA world and Congress title winners. Working in Nebraska, I started colts full time for Arrow A Ranch, and raised and trained barrel horses, rope horses, and all around ranch horses. Multiple of which are currently competing at a pro level.
I offer honesty and professionalism. The care of and best interest of the horse are my number one priority in teaching both horse and rider.
I currently offer hourly sessions with horse and rider, start colts, start horses in the above stated disaplines, show and rodeo horses, and work with 'troubled' or problem horses.
Specialties
'Problem' Horses
4-H
All Around
All Around Horse Training
APHA
AQHA
Barrel Racing
Beginner Riders Welcome!
Boarding / Training / Lessons / Hunter / Jumper / Western Pleasu
Breaking & Starting Western Horses
Breeding
Building Confidence
By the Session Training
Coaching
Colt Starting
Conditioning
Demonstrations
Desensitization
Desensitizing
English Disciplines
Experience With Quarter Horses
Groundwork
Halter Training
Hauling
Help With Purchasing A Horse
Horse Finishing
Horse Tune-Ups
Horsekeeping Instruction
Horsemanship
Lessons
Mobile Training
Mustangs
Natural Horsemanship Trainer
Patterning
Pony Training
Problem Horse Trainer
Refreshers
Rodeo Training
Sales And Training
Trail Or Pleasure
Trailer Loading Training
Training
Training Help
Training Safe Trail Horses
We Focus On Safety And Learning Communication With Your Horse
Western Dressage
Western Equitation
Western Horses for Sale
Western Pleasure Horse Training
Western Riding Clinics
Western Riding Lessons
Western Show Coaching
Young Horses
Young Riders Welcome!