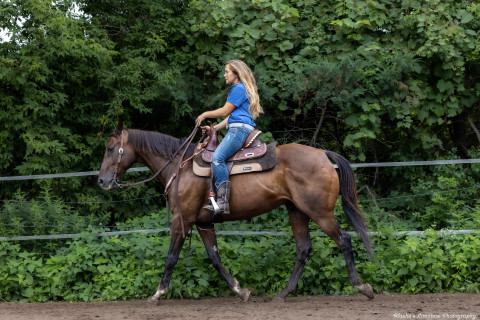 Condition out of shape horses, tuneups, restarts, problem solving, fine tuning, calming down reactive/fearful horses, trust and confidence building, desensitization and ground manners, start horses under saddle, consignment horses, barrels/WSCA event patterns, ranch horses, trail horses.
♦️Part time and full time training options available.
♦️Stall board is included in every training package.
♦️All horses must have proof of vaccines and current coggins.
"The little details matter a lot to sensitive horses" I spend the time getting to know them and where they are at mentally so that I can better prepare them for the next steps.
Specialties
All Around
All Around Horse Training
AQHA
Barrel Racing
Breaking & Starting Western Horses
Building Confidence
Colt Starting
Conditioning
Desensitization
Experience With Quarter Horses
Gaited Horses
Groundwork
Halter Training
Help With Purchasing A Horse
Horse Finishing
Horse Tune-Ups
Horsemanship
Lessons
Mustangs
Natural Horsemanship Trainer
Pony Training
Problem Horse Trainer
Sales And Training
Trail Or Pleasure
Trailer Loading Training
Training
Training Safe Trail Horses
We Focus On Safety And Learning Communication With Your Horse
Western Horses for Sale
Western Riding Lessons
Western Show Coaching
Young Horses
Young Riders Welcome!