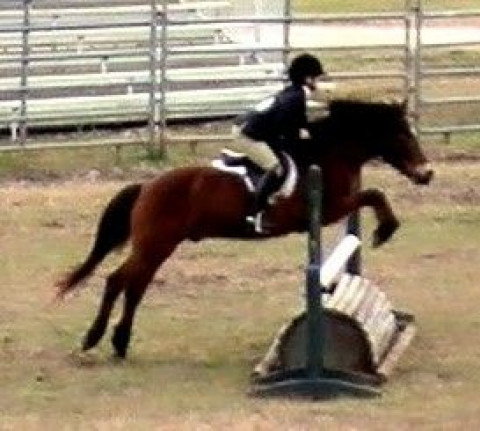 SIGN UP NOW>>>2017 HORSEMANSHIP SUMMER CAMP REGISTRATION IS OPEN and limited space available. Our focus is on horse management, riding skills, and safety around horses. The campers will begin their day with feeding, brushing, saddling and riding group lessons : English huntseat style training with individual attention. They will then have the an opportunity to bathe and care for their camp horse (our horse or yours!). After a lunch in the shade and some fun activities, campers will learn a variety of horse management skills including first aid, health care, hoof care, feeding, illness management and prevention. Then the horses will be prepared for another riding lesson. In the Horsemanship I, II and Advanced camps, the day will be finished up with demonstrations, educational games, equine themed coture crafts and riding skills practice. Field trips to beach and local feed dealers or vet offices a possibility SUMMER CAMP is a 5 day camp or 3 days from JUNE 13th - JULY 29th 9AM-3pm for $220 part time/wk or $295 full Time/wk also we welcome students with their own horses if riders want to bring their own horse it is an additional $15 for a day stall or $25 overnight. All campers will ride primarily English and possibly Western and will learn different skills of both styles proper Equitation and some even learn how to jump (low level of course for beginners ) , basic dressage, for advanced kids -how to plan and set up courses for a purpose and how to judge shows and even train ponies and horses using natural horsemanship skills and show ring fundamentals to be a sucessful rider. we have a year round HUNTER JUMPER RIDING CLUB , SHOW TEAM as well as lesson programs, pony parties and trailrides for kids and adults. Girlscouts welcome to earn their horse badges!
call
( EMAIL )
Register at www.windsongfarm1.webs.com/campregistration.htm/
or call /horse
Also have a 1 week overnight camp in Blue Ridge Mountains starts Jult 31-August 5th 2017!!! Www.overnighthorsecamp.weebly.com
Specialties
4-H Club
4-H Horse Lease Program
4H Club
A Horse Camp That Is All Horses
Activities
Adult Beginners
Adults
Advanced English Camps
Affordable
All Ages!
All Breeds
All The Time!
And Positive Life Skills.
And Private/semiprivate Lessons.
Arena
Barrels
Basics
Bathrooms
Beautiful Facility
Beginner Thru Advanced Riding Lessons In English And Western. W
Beginner To Advanced Riding Lessons
Beginners - Experienced Riders
Beginners Welcome!
Beginning Jumping Clinic
Birthday Parties
Birthday Parties And Special Events.
Boarding
Boarding. English And Western Disciplines
Bring A Lunch
Building Confidence
Camp
Certified Instructor
Certified Riding Instructor
Cha Certified Instructors; Scout Troop Rider Badge Sessions;Birt
Christian
Clean
Clinician
Combined Training
Combining The Disciplines Of Hunter/Jumper And Dressage
Confidence Building
Covered Arena
Creek Riding
Daily Riding Lessons
Dressage
Educational Clinics
English & Western
English And Dressage Riding
English Riding Lessons
Equestrian Camp
Equine Summer Camp
Equitation
Eventing
Excellent Instruction
Experienced Instructor
Family
Family Atmosphere
Family Farm
Family Oriented
Farm
Field Trips
Fishing
Full Service Riding Facility
Fun
Gift Certificates
Girl Scout
Great Way To Learn About Horses
Group Lessons
Groups
Guided Trail Riding
Homeschool Programs
Horse & Pony Birthday Parties
Horse Boarding Available
Horse Camp
Horse Camps
Horse Education
Horse Leasing
Horse Showing
Horse Summer Camps
Horse Training Available
Horseback Riding Camp In Venice And Sarasota FL
Horseback Riding Day Camps
Horseback Riding Lessons
Horsemanship 101 Summer Camp
Horsemanship Lessons
Horses For Lease
Horses Provided
Hunter
Hunter Jumper
Hunter/Jumper
Hunters
In-House Horse Shows
Jumping
Jumping And Introductory Dressage For More Advanced Students. M
Kids
Kids Camp
Lessons
Life Long Lessons
Natural Horsemanship
NC
Obstacles
Overnight Camp
Painting Horses
Party
Poles
Ponies
Pony Club
Pony Parties & Rides
Pony Rides
Private Balance Seat Riding Lessons
Private Instrtuction
Private Instruction
Quality Instructors
Rides
Riding Lessons Year Round
Roping
Safety Is Top Priority
Sales
Show Team
Showing
Showmanship
Sleepaway Camp
Special Events
Special Needs
Stalls Available
Summer Camp
Swimming
Tacking
Therapeutic Riding
TONS OF FUN
Training
We Also Have Lessons
Weekend Camps
Well Mannered Horses
Western
Western Dressage
Western Riding
Western Riding Lessons
Winners