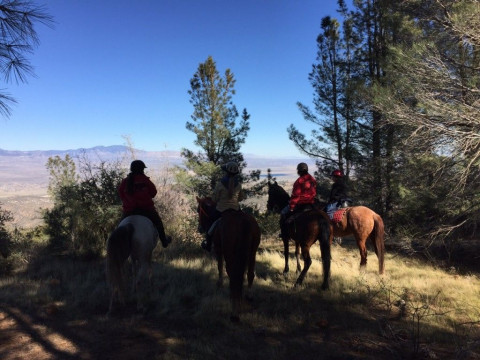 Come- trot Southern Californias fascinating trails! Skilled, experienced riders will find on Running Horse Ranch the opportunity go at a faster pace- to explore scenic, mountainous, wilderness trails, riding our skilled performance horses. Our rides can be challenging or easy going, the choice is yours- since we do not mix and match riders from other parties- except if we know all parties can ride!
Choose between adventurous day rides, - or stay for a three, five, or seven day riding adventure. Each vacation is custom tailored to your own need.
Your privacy is very important to us- we do not operate as a commercialist stable.
To keep the trails fun for our riders and horses we haul the horses to a selected variety of trail heads each day, to provide horse/rider teams a different trail and landscape setting.
For our beginner rider we offer a fun trail labyrinth class, right here on our ranch. Beginners have the opportunity quickly to advance, since we offer them- while out on the trail, an challenging obstacle course to practice.
Specialties
Beginners - Experienced Riders
Beginners Welcome!
Confidence Building
English Riding Lessons
Equine Summer Camp
Eventing
Excellent Instruction
Family
Family Oriented
Fun
Great Way To Learn About Horses
Guided Trail Riding
Horse & Pony Birthday Parties
Horse Education
Horseback Riding Day Camps
Horses Provided
Pony Parties & Rides
Well Mannered Horses