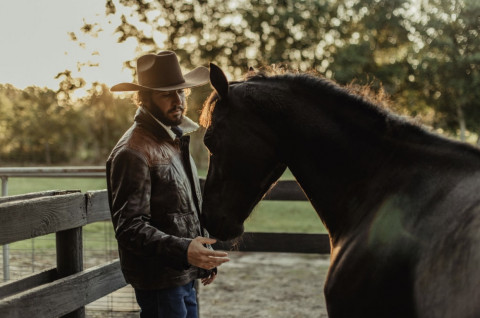 Do you have an interest in horses, but not a lot of experience handling or being around them? Or maybe you want to build a closer bond with your horse? Magic Meadows is a small, private horse boarding farm located East of I-75 in beautiful Sarasota. We offer private lessons for adults or kids who are looking for a safe introduction to the wonderful world of horses. Our approach is unique - this is not a typical horse camp - we teach the basics in an in-depth, practical way in order to give you the best foundation for working with horses. Too often, the basics are glossed over or discarded once riding lessons begin, but we believe the basics (communication, intention, grooming, groundwork, etc.) should be a daily practice and is how the bond deepens. If you already have horse experience, this can help refine your everyday skills or achieve results like never before. Most horse camps offer riding lessons - we do not - we focus on the basics from the ground that lead to success in the saddle (and we have referrals for great trainers in the area).
Some of the topics covered include: horse/human psychology, safely grooming and maneuvering horses on the ground, techniques for handling fear, how to teach a horse something new (or change a habit), and how to prepare for horse ownership, etc.
Each 1 hour session builds into the next, with the final goal of building calm confidence in the company of a horse. If there is something specific you want to do (or not do), work on, or experience - we can tailor the session to your needs and desires if possible. Just ask!
Current Session Offerings:
Private Adult - $150
Private Adult Duo (bring a friend or your partner) - $250
Private Child - $150
Group Ages 6-15 (siblings or up to 4 friends) - $300
We love to share our love for horses, as well as the peaceful environment here at Magic Meadows. The horses, goats, chickens, and cats we care for are able to enjoy their lives as they should - so when you interact with them, you'll feel the noticeable difference that a happy animal brings to your life. Our focus is education - but you'll most likely leave the session feeling a therapeutic afterglow.
Please call or text Rita at (941) 320-0348 to ask any questions and book your session today!