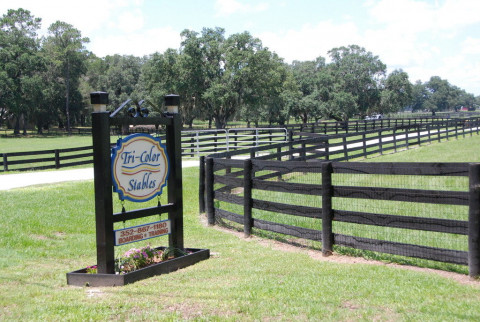 A full service hunter/jumper equestrian facility. 10 Stall barn, 8 stalls 12 x 12 and 2 stalls 12 x 14. Barn includes amenities such as: automatic waters, fly spray system, Soft-Stall flooring in every stall, Soft-Step Tiles in all walkways and grooming stalls, air conditioned, heated, and secure tack room and feed room.
Turn-out: Nestled amongst the live oak trees of north central Florida, TriColor Stables features thick bahia grass pastures with plenty of space for horses to exercise and graze. Each four-board fenced pasture is between 3 and 5 acres and there is a single 1 acre five-board stallion paddock.
Exercise: A 60-foot European Hot Walker is available with six stalls for periodic exercise; from walk to canter, for approximately 20-minute sessions. Additionally, the 60-foot round-pen allows for many different training techniques to be employed for anything from initial weanling training to rehabilitation from injury for a working horse. Beyond these tools, the stable also features a 140x260 all weather footing riding ring for training, jumping, and regular exercise.