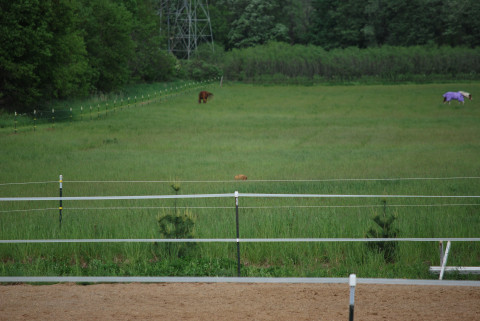 We are a small hobby farm, each horse receives individualized care daily. Facilities include pasture boarding on 32 acres. The pasture also includes 2 spacious shelters that are cleaned regularly. While we do not have stall board we do take pride in ensuring our shelters are cleaned weekly. All horses are provided quality hay as well as excellent quality access to pasture.
32 acres and 4 pastures used for rotational grazing.
Only 10 horses at one time on the facility. Grouping of 5 horses together.
Grain is included 2 times a day. We offer 2 different types of grain to meet the special needs of your horse
De-wormer included and provided every other month
Large 75x150 outdoor arena with excellent footing.
Lean-to shelters are spacious and cleaned frequently.
In the winter horses are provided quality hay— summer pasture is abundant and hay is supplemented when needed.
Board is $220 per month
We offer the assistance of any extras, please inquire of our charges. We are willing to accommodate.
Space for your tack trunk, saddle, and bridle.
feel free to email us at
Specialties
All Breeds And Disciplines Are Welcome
Equitation
Geriatric Horse Care
Hunter Jumper
Open 7 Days a Week
Pasture Board
Pastures
Retirement With Full Care
Riding Trails Available
Trail Riding