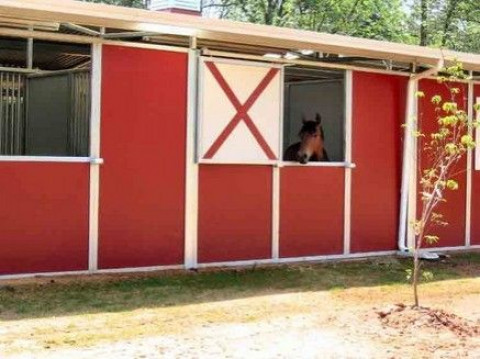 Mountain Breeze Stables has been operating since 2003. It is located 6 miles west of Marietta Square in West Cobb near the intersection of Barrett Parkway (East-West Connector) and Dallas Highway (120). 4 miles from Kennesaw Mountain with 16 miles of trails.
We have 12 acres with a large pasture and 5 separate paddocks. Fences are all new RAMM Flex Fence. All areas of the property are fenced in with a Ghost automatic gate for security. We have 12x12 stalls with new Stall Saver mats that were installed in 2020. The stalls are kept full of shavings. We have an indoor wash rack with hot and cold water, a large round pen and a lit riding arena. The barn has a heated and air conditioned tack room with a bathroom.
We provided feed to maintain the proper weight of your horse. We currently carrying: Triple Crown Senior Gold, Seminole Wellness Perform Safe, alfalfa pellets, rice bran, wheat bran and beet pulp shreds. We bran mash our horses weekly or as needed to help prevent colic. We provide a deworming program and Simplifly Feed-Thru Fly Control. We will add supplements that you provide in the evening feeding.
We have done major improvements and are ready to accept new boarders. We offer full board only. We do not offer pasture or partial board. We do not need any additional help at this time. Full board is $750/month. We do not charge extra for services such as blanketing, fly masks, trailer parking, holding your horse for the farrier or vet or any other reasonable request.
The barn is protected with 24 hour video surveillance. We live on the property and someone is available at all times.
Specialties
AQHA
Arena
Blanketing
Board
Boarding
Daily Stall Cleaning
Daily Turn Outs
Full Service Boarding Facility
Geriatric Horse Care
Horse Leases Available
Horse Retirement Care
Individualized Care
Outdoor Arena
Personalized Care
Retirement With Full Care
Round Pen
Stables
Stall Boarding
Trailer Parking Available
Wash Rack