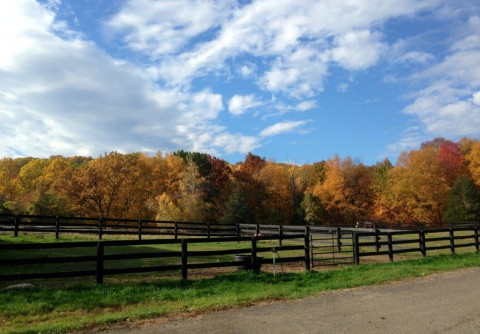 ARE YOU UNHAPPY WITH YOUR BOARDING BARN BECAUSE ITS UNPROFESSIONAL, DOESNT HAVE ENOUGH TURNOUT OR IT'S RUN BY KIDS? IF SO, CHECK US OUT! We are a laid-back, private boarding, breeding, riding & retirement facility - not open to the public. We focus on our mature adult boarders and their horses. We aren't a busy lesson barn, so appointments are required if you aren't currently a boarder here (and you will love that private feeling once your horse is here). Beautiful, private facility built in 2014 with quality wood fencing, custom blend rubber/fiber/sand arena footing. Owned and operated by knowledgeable equestrian professionals, we understand how important it is to enjoy your time at the farm.
Harmony View is privately situated on 145 acres - conveniently located on the Patterson/Pawling borders of Putnam and Dutchess Counties. We provide horse boarding for mature owners looking for top of the line care and service with amenities including hot & cold wash stall, custom blend arena footing, all day turnout and beautifully cleared private trails in a no-drama facility. We are in an ideal location for people moving their horse from Westchester and offer a safe, private facility -- not open to the public so our boarders are comfortable knowing their horses aren't intermingled with outsiders.
The interior features a clean and tidy barn with spacious 12x12 matted stalls and top-of-the-line LED lighting throughout, hot & cold wash stall, natural cross ventilation, huge Dutch windows in all stalls and a temperature controlled tack room.
The exterior features numerous large and small paddocks to allow for all day turnout, *145 acres of private, cleared trails for your enjoyment and our huge arena with custom footing.
Owned and operated by lifetime residents of the Hudson Valley, we are mature and knowledgeable horse people with more than 40 years combined experience. Owners live on-site and are hand's-on daily, and perform night check 365 days of the year.
We're located less than 5 miles from I-84 at Route 311 and just 1 mile over the Patterson border. It's a 5 minute drive from Carmel, Kent, Patterson or Brewster and short distance from neighboring Stormville, Holmes, Dover, Beekman, Poughquag, East Fishkill, Fishkill, -- a very easy drive from Westchester & Putnam.
See more information & photos on our Harmony View Farm Facebook page.
Schooling, exercising and training rides available for our boarders at an additional expense.
Specialties
A Multi Discipline Facility That Is Meticulously Maintained
Affordable Horse Boarding Rates
All Breeds And Disciplines Are Welcome
All Disciplines and Riding Levels Welcome
And Lessons Available.
AQHA
Arena
As Well As Individual Paddocks. Full Car
Bathroom
Beautiful
Blanketing
Board
Boarding
BREEDING
Broodmare And Foal Care
Broodmare/Foal Care
Clinics
Combined Training
Contact Us For Details.
Cross Country
Daily Handling Of Horses
Daily Individual Turnouts
Daily Pasture Turn-out
Daily Stall Cleaning
Daily Turn Outs
Dressage
English
English Pleasure
Equitation
Eventing
Excellent Care
Farm Sitting
Farrier On Call
Foaling Facilities
Full Care
Full Service Boarding Facility
Full Service Private Stable With A Family Atmosphere
Full Service Training And Boarding Facility
Full Tack Room
Full Time
Geriatric Horse Care
Grained Twice Daily
Grass
Grass Fields
Great Care
Great For Retired Horses
Green Business Using Renewable Energy
Grooming
Group Activities
Horse
Horse Boarding
Horse Breeding Program
Horse Injury Rehabilitation
Horse Leases Available
Horse Retirement Care
Horse Transport Available
Horses
Horses for Sale
Horses For Sale And Lease
Hunter Jumper
Hunter Under Saddle
Hunters
I Personally Care For Each Horse In This Facility.
Ideal For The Multi-horse Owner
Individualized Care
Indoor Stalls Or Turn-out Pasture
Jumper
Jumpers
Jumping
Lay-ups
Layups
Leasing
Loving Farm
Natural Horsemanship
Open 7 Days a Week
Outdoor Arena
Owner On Premises
Owners Live On Site! We Know What Our Horses Want 24 Hours A Day
Pasture
Pasture Board
Pastures
Peaceful & Quiet Setting
Peaceful And Relaxing
Personal Attention Given To Each Horse And Human
Personalized Care
Personalized Horse Boarding Options Including: Grooming
Private Riding Lessons
Quality Care
Relaxed Environment
Retirement With Full Care
Riding Clinics
Riding Trails Available
Round Pen
Senior Horse Care
Showing Program
Stables
Staff Lives Onsite
Stall Boarding
Supporting All Breeds And Riding Styles
Tack Room
Trail
Trail Rides
Trail Riding
Trailer Parking Available
Trails
United States
USEF
Wash Rack
We Live On Site
Western
Western Dressage
Western Pleasure
Young Horse Raising