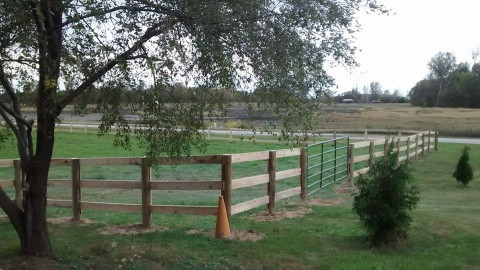 We are a stable in NW Ohio that offers Boarding, Lessons, Training, Breeding and Sales. We Specialize in the All Around Pleasure Horse.
We stand 2 outstanding AQHA Stallions! Gota Good Intuition and Gold Time To Shine. We have offspring available For Sale!
We are a small, drama free barn. Lots of Turnout and Pasture available.
All disciplines, breeds and riding levels welcome!
Please visit our website for rates, more information and horses for sale.
******************************************************************************************************Please Email me directly, as this site does NOT give me your contact info!!!******************
Email can be found at website. All info and horses available on the the website.
Thank you for your interest in our services and horses!
Sondra
Specialties
2. Veterinary Available
4-H
A Multi Discipline Facility That Is Meticulously Maintained
Affordable Horse Boarding Rates
All Breeds And Disciplines Are Welcome
All Disciplines and Riding Levels Welcome
And Lessons Available.
And Providing Lessons For Beginner And Intermediate Rider
APHA
AQHA
Arena
Barrel Racing
Beautiful
Beginner Lessons On Own Or School Horses.
Blanketing
Board
Boarding
Breaking
Bridleless Riding
Broodmare And Foal Care
Colt Starting
Daily Handling Of Horses
Daily Pasture Turn-out
Daily Stall Cleaning
Daily Turn Outs
Draft Horse
Dressage
Education
English
English Pleasure
Equine Chiropractics
Equitation
Excellent Care
Farrier On Call
Farrier Services
Foaling Facilities
Full Service Boarding Facility
Full Tack Room
Full Time
Geriatric Horse Care
Grained Twice Daily
Grass
Grass Fields
Great Care
Grooming
Group Activities
Group Instruction
Gymkhana
Holistic Equine Facility
Horse
Horse Breeding Program
Horse Injury Rehabilitation
Horse Leases Available
Horse Retirement Care
Horse Sales Preparation
Horse Training
Horseback Riding Lessons
Horses for Sale
Horses For Sale And Lease
Hunter Under Saddle
Individualized Care
Jumping
Lay-ups
Layovers, Stopovers
Layups
Leasing
Lesson Horses
Lessons
Lessons Available
Longe Line Lessons
Natural Horsemanship
Obstacle Course Training.
Open 7 Days a Week
Outdoor Arena
Overnight Stabling
Owner On Premises
Pasture
Pastures
Peaceful & Quiet Setting
Peaceful And Relaxing
Personal Attention Given To Each Horse And Human
Personalized Care
Pole Bending
Private Riding Lessons
Quality Care
Retirement With Full Care
Riding
Riding Clinics
Riding Lessons
Riding Lessons for Adults
Riding Lessons for Children
Round Pen
Safety Courses
Showing Program
Stables
Stall Boarding
Stallions
Starting Horses
Supporting All Breeds And Riding Styles
Tack Room
Trainer On-site
Training
United States
Veterinary Care
Wash Rack
Wash Racks
Weekly Stays
Western
Western Pleasure
Working Student Program
Young Horse Training
Young Riders Welcome
Youth