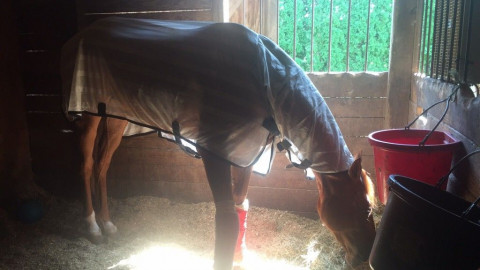 We are a private horse barn that focuses on individualized care programs for each and every horse. We specialize in post-surgical care, layups and rehabilitation of performance horses.
We have large box stalls with thick rubber matting and deep bedding to support and cushion. Horses are fed high quality hay 4 times daily. Stalls are picked and cleaned 1-2 times daily, 7 days per week.
Layup services available are daily hand walking, individual turn out, blanketing, stretching, massage, bandage changes and daily grooming. Medications and supplements can be administered in conjunction with the recommendations from your veterinarian.
Registered Veterinary Techinician on staff; memberships/certifications:
-AAEVT (American Association of Equine Veterinary Technicians)
-NAVTA (National Association of Veterinary Technicians in America)
Visit us at:
www.Facebook.com/BuckeyeEquine
Email or call for more information.
Specialties
2. Veterinary Available
All Breeds And Disciplines Are Welcome
All Disciplines and Riding Levels Welcome
Arena
Bandage Changes
Beginner Lessons On Own Or School Horses.
Blanketing
Boarding
Contact Us For Details.
Daily Handling Of Horses
Daily Stall Cleaning
Daily Turn Outs
Equine Chiropractics
Excellent Care
Full Service Boarding Facility
Geriatric Horse Care
Grass
Grass Fields
Great Care
Group Activities
Group Instruction
Horse Injury Rehabilitation
Horse Leases Available
Horse Rescue and Adoption
Horse Sales Preparation
Horse Training
Horseback Riding Lessons
Individualized Care
Indoor Riding Arena
Lay-ups
Layovers, Stopovers
Layups
Off Track Thoroughbred
Open 7 Days a Week
OTTB
Outdoor Arena
Overnight Stabling
Owner On Premises
Pastures
Peaceful & Quiet Setting
Peaceful And Relaxing
Personalized Care
Post Surgical Care
Private Riding Lessons
Quality Care
Registered Veterinary Technician On Staff
Rehabillitation
Retirement With Full Care
Sports Massage
Stables
Stall Boarding
United States
Veterinary Care
Wash Rack
Weddings
Weekly Stays
Wound Therapy
Youth