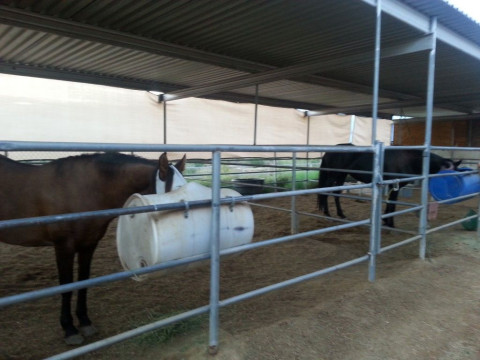 Private Horse Boarding Facility. Board includes a large covered stall, stalls cleaned daily, bedding, four feedings of hay daily. Boarders have access to tack rooms, lighted/covered wash rack, large grass pastures, large lighted/covered turn out corral and round pen, large lighted arena, trail riding and a picnic area. Additional amenities available at a fee: horse training, riding lessons, blanketing, exercising, turn outs, etc.
We specialize in working with problem horses (aggression, kicking, rearing, bucking, biting, disrespectful behavior) and stallions. We cater to all types of horses and can train them for clinics and competitions. Our Olympic trained horse trainer has experience as a classical rider and classical Spanish and Portuguese riding. He's the current 2014 Fiesta of the Spanish Horse Working Equitation Champion. He's made championship horses and will work with horses and their owners on a one on one basis.
Boarding is affordable and we have veterinary and ferrier services we use regularly that we can offer you if you don't have your own. Email for details on anything that catches your interest.
Specialties
All Breed Facility
All Breeds And Disciplines Are Welcome
All Disciplines and Riding Levels Welcome
And Lessons Available.
And Providing Lessons For Beginner And Intermediate Rider
Arabians
Arena
Arena Rental
Beginner Lessons On Own Or School Horses.
Biting
Blanketing
Board
Boarding
Breaking
Bridleless Riding
Bucking
Church Groups
Clinics
Colt Starting
Contact Us For Details.
Daily Individual Turnouts
Daily Pasture Turn-out
Daily Stall Cleaning
Daily Turn Outs
Disrespectful Behavior)
Doma Vaquera
Draft Horse
Dressage
Dressage Training
Driving
Education
English
Equitation
Excellent Care
Farrier Services
Foaling Facilities
Full Service Boarding Facility
Full Service Private Stable With A Family Atmosphere
Full Service Training And Boarding Facility
Full Tack Room
Full Time
Gift Shop
Grass
Grass Fields
Great Care
Great For Retired Horses
Group Activities
Group Instruction
Group Lessons
Halter
Horse
Horse Breeding Program
Horse Injury Rehabilitation
Horse Leases Available
Horse Sales Preparation
Horse Shows
Horse Summer Day Camp for Kids
Horse Training
Horse Transport Available
Horse/Pony Birthday Parties
Horseback Riding Lessons
Horseback Riding Vacations
Horses
Horses for Sale
Horses For Sale And Lease
Ideal For The Multi-horse Owner
Individualized Care
Leasing
Lesson Horses
Lessons
Lessons Available
Longe Line Lessons
Natural Horsemanship
Obstacle Course Training.
Open 7 Days a Week
Outdoor Arena
Overnight Stabling
Owner On Premises
Owners Live On Site! We Know What Our Horses Want 24 Hours A Day
Pasture
Pastures
Peaceful & Quiet Setting
Peaceful And Relaxing
Personal Attention Given To Each Horse And Human
Personalized Care
Pole Bending
Private Riding Lessons
Problem Horses
Problem Horses (Aggression
Public Guided Trail Rides
Quality Care
Rearing
Relaxed Environment
Riding
Riding Camps
Riding Clinics
Riding Lesson Program
Riding Lessons
Riding Lessons for Adults
Riding Lessons for Children
Riding Trails Available
Round Pen
Safety Courses
Schooling Shows
Showing Program
Special Events
Stables
Staff Lives Onsite
Stall Boarding
Stallions
Starting Horses
Supporting All Breeds And Riding Styles
Tack Room
Trail
Trail Rides
Trail Riding
Trainer On-site
Training
United States
Veterinary Care
Wash Rack
We Live On Site
Weddings
Weekly Stays
Western
Western Dressage
Working Equitation
Working Student Program
Young Horse Training
Young Riders Welcome
Youth