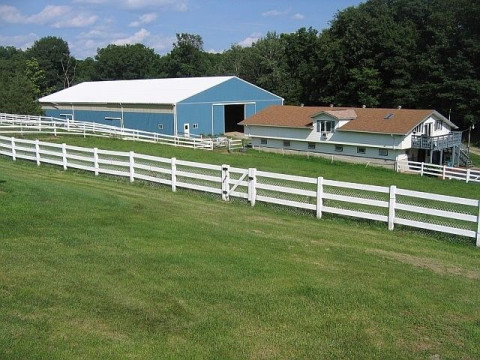 Aisling Farm - Small facility charm with big facility amenities! Top notch facility in Sussex County with a peaceful, warm, friendly atmosphere for you and your equine partner. Aisling Farm offers the personalized care and attention that only a small facility can provide.
Our amenities include:
**Oversized 80'x200' brightly lit and airy indoor arena with viewing area,
**Huge 110'x220' outdoor arena with gazebo viewing area, (both indoor and outdoor have dust free footing and are groomed regularly)
**Large and airy 12x12 fully matted stalls with windows and individual lighting/water systems
** Brightly lit barn
**Fully screened to minimize flies,
**Daily turnout (weather permitting) on beautifully maintained, lush grass pastures ** Individual turnout at no extra charge!
**Pastures enclosed with new three board Centaur fencing with electric,
**Dedicated water service to each turnout ,
**Heated hot/cold water wash stall,
**Heated tack room, kitchen and bath.
**Owners and caretakers live and work on premises ensuring constant supervision.
Your horse will enjoy personalized care on a daily basis!
Daily services include:
**Customized feeding plans based on your horses individual needs (horses fed 2x per day minimum),
**High quality timothy hay 3x per day,
**Stalls cleaned daily
**Dust free bedding added daily
**Water buckets and feed tubs scrubbed daily.
**No extra charge for supplements, worming, fly spray, putting blankets on or off, turnout boots on or off, individual turnout, scheduling vet or farrier appointments.
Given our small size, you will never have to wait for the wash stall, ring time or any other amenity. With a daily routine that is regular, quiet and peaceful, you and your horse will enjoy our relaxing atmosphere.
Aisling Farm is conveniently located close to routes 15, 80, 206 and 94, only one hour from NYC. All disciplines are welcome. Lessons and training are also available. Please visit our website at www.kfkperformancehorses.com, call or email for more information or to schedule a visit to see the farm. We look forward to meeting you!
Specialties
4-H
All Breeds And Disciplines Are Welcome
All Disciplines and Riding Levels Welcome
Amazing Facility
APHA
AQHA
Arena
Blanketing
Board
Boarding
Daily Individual Turnouts
Daily Pasture Turn-out
Daily Turn Outs
Dressage
English
English Pleasure
Equitation
Friendly
Full Service Boarding Facility
Grass Fields
Horse Training
Horseback Riding Lessons
Hunter Under Saddle
Individualized Care
Indoor Riding Arena
Lessons
Open 7 Days a Week
Outdoor Arena
Pastures
Personalized Care
Personalized Care For You And Your Horse
Personalized Training/lesson Programs
Private Riding Lessons
Relaxed Atmosheere
Relaxed Peaceful Atmoshere
Retirement With Full Care
Riding Lessons for Adults
Showing Program
Stables
Stall Boarding
Western
Western Pleasure
Year Round Riding