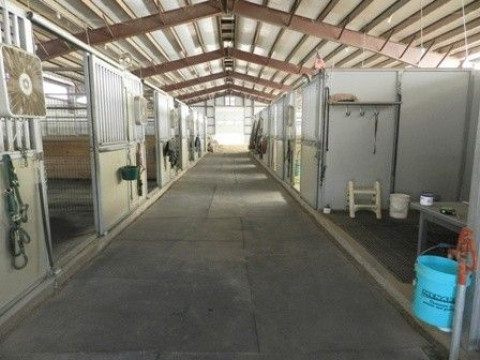 Stalls available April 2021.
MUST contact us directly by phone or text using our number listed at bottom of this page. If you try to contact us through this site or do a shop around request we are UNABLE to respond to you.
Private & quiet facility on 73 acres with groomed riding trails with both level areas and some small hills through the property with both open and wooded areas. Large, airy, open, and well lit barn. Horses are able to see each other in the barn stalls so they never feel isolated. Owners live on property. Small number of boarders.
11 Large 12x24 matted stalls with shavings. Wash bay with hot & cold water. Heated tack room with a refrigerator, microwave, and bathroom. 69x170 indoor arena with rubber/sand footing and mirrors, dust free with use of MgCl. 72x204 outdoor arena with sand footing and 5 ft. fencing. Screen covered entries in barn and indoor arena to keep out pesky flies and birds.
All horses turned out for entire day with view of other horses. Individual paddocks available. No need to worry about pecking order adjustments between horses. Seasonal pasture turnout available. Heated buckets provided 24/7 in winter. No rough board available, all horses are put up in an individual barn stall during night. Hay fed 3-4 times per day. Will feed any grain or supplement provided by owner. Blanket/sheet changes provided with basic grooming. Horses handled daily. Horses kept in barn stall during extreme weather events. Trailer parking is available.
Owners provide a high level of care for your horse as they do their own with individual attention. Overnight camera watch for sick horses. Come check us out if you like a quiet and private facility where you can choose to have arena time all to yourself or ride trails. No busy crowds to share your riding time with. Our facility supports adult horse owners who want a private, quiet, and mature environment to board and ride their horse without intrusions from non-boarders, dogs, etc.
Respect, trust, and good relationships between all is important to our mature barn environment, everyone needs to be happy, both horses & owners, no negative drama. Must contact us by phone or text shown on the bottom of this listing page, otherwise we can not respond. Might consider a partial board/work agreement for the right candidate which depends on the level of maturity, integrity, knowledge, skills, and experience. Must provide references.
Specialties
All Disciplines and Riding Levels Welcome
Barn Stall Boarding W/daily Turnout
Blanket Changes W/grooming Provided
Daily Individual Paddocks
Daily Stall Cleaning
Eyes on Horses Throughout the Day
Groomed Trails on Property
Group Pasture Time Available
Heated Bathroom
Heated Buckets in Winter 24/7
Heated Tack Room
Horses Handled a Minimum of 2X Daily
Horses Kept in Barn Stall at Night
Horses Kept in Barn Stall During Extreme Weather Events
Individualized Care
Indoor Riding Arena
Indoor Wash Stall W/hot & Cold Water
No Rough Boarding Available
Outdoor Arena
Overnight Camera Watch for Sick Horses
Pastures
Quiet & Private Facility
Quiet Farm & Pasture Comminity
Riding Trails Available
Safe & Secure W/keyed Entries
Stall Boarding
Trail Riding
Trailer Parking Available