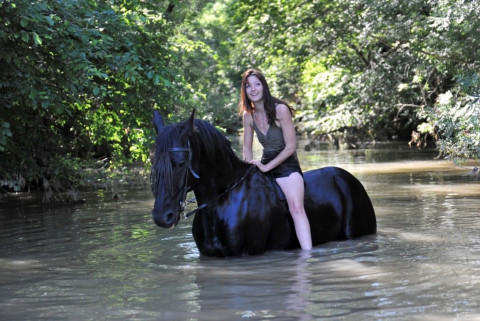 Come Ride the River & Experience Superior Care for Your Horse at Finley River Stables.
Whether you enjoy working in our large 200X100 foot sand filled pipe arena, riding along the Finley River or just exploring more than 140 acres of varied terrain, Finley River Stables offers a variety of options for enjoying your horse without ever having to leave the property. We are truly a trail riders paradise.
We are conveniently located three and one half miles from Riverside Park in Ozark, Missouri and approximately 12 miles from Springfield, just a short drive from Branson, Nixa and many surrounding towns with easy access from 65 highway.
Pasture Boarding is available at $250.00 per month. Pasture horses enjoy lots of room to play and move about, exceptional well drained pastures, horse safe Centaur fencing, plenty of hay in winter and access to a continuous supply of clean fresh water.
We take pride in keeping all of our resident horses healthy, well nourished and in excellent condition.
Finley River Stables is a small full service well equipped facility where your horse will have the best of one on one care, be free to play in the pond, graze the big pastures and just experience what it's like to be a horse in a natural and relaxed setting. You will get to experience a relaxed, un-crowded low stress atmosphere where you can leave the daily care to us and enjoy visiting and interacting with your horse any time you like. Trailer Parking is also available. For more information Contact Sheila
Specialties
A Multi Discipline Facility That Is Meticulously Maintained
Affordable Horse Boarding Rates
All Breeds And Disciplines Are Welcome
All Disciplines and Riding Levels Welcome
APHA
AQHA
Arena
Beautiful
Board
Boarding
Broodmare And Foal Care
Contact Us For Details.
Education
Excellent Care
Farrier On Call
Farrier Services
Full Service Boarding Facility
Full Service Private Stable With A Family Atmosphere
Full Tack Room
Full Time
Gaited Breeds
Gaited Horse Training
Geriatric Horse Care
Grass
Grass Fields
Great Care
Horse
Horse Injury Rehabilitation
Horse Retirement Care
Horse Sales Preparation
Horses for Sale
Horses For Sale And Lease
Ideal For The Multi-horse Owner
Individualized Care
Lay-ups
Layovers, Stopovers
Layups
Loving Farm
Natural Horsemanship
Open 7 Days a Week
Outdoor Arena
Overnight Stabling
Pasture Board
Pastures
Peaceful & Quiet Setting
Peaceful And Relaxing
Personal Attention Given To Each Horse And Human
Personalized Care
Quality Care
Riding
Riding Trails Available
Round Pen
Stables
Stall Boarding
Supporting All Breeds And Riding Styles
Tack Room
Trail Riding
Trail Riding Along The River
Trailer Parking Available
United States
Veterinary Care
Wash Rack
Wash Racks
Weekly Stays
Western
Western Pleasure
Young Riders Welcome
Youth