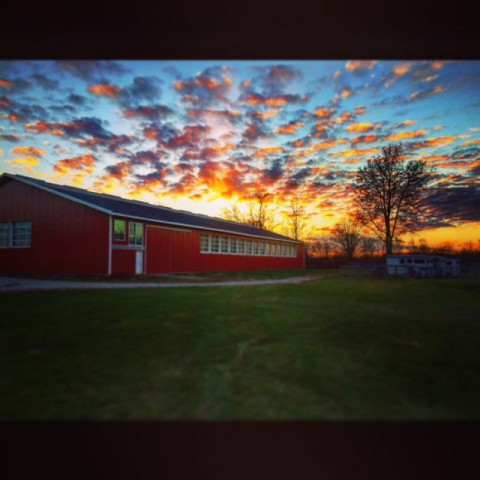 Mill Creek Equestrian is a top notch boarding stable offering full care boarding services to the Dayton and surrounding area. We feature on-site training for dressage, hunter/jumper and dressage, but welcome all disciplines and horses! A friendly and supportive atmosphere where we focus on the happiness of the horse.
Property Amenities
- 80' x 150' Indoor Riding Arena with Dust Free Footing
- 100' x 250' Fenced Outdoor Riding Arena with Sand Footing
- 60' Wood Round Pen with Sand Footing
- Indoor Wash Rack
- 2 Indoor Grooming Stalls
- Viewing Lounge
- Heated Restroom
- Over 20 Acres of Open Field for Riding
- Over 25 Acres of Fenced Pasture for Turnout
Specialties
4-H
A Multi Discipline Facility That Is Meticulously Maintained
All Breeds And Disciplines Are Welcome
All Disciplines and Riding Levels Welcome
And Lessons Available.
And Providing Lessons For Beginner And Intermediate Rider
APHA
AQHA
Arabians
Arena
As Well As Individual Paddocks. Full Car
Barrel Racing
Beautiful
Beginner Lessons On Own Or School Horses.
Blanketing
Board
Boarding
Broodmare And Foal Care
Daily Handling Of Horses
Daily Individual Turnouts
Daily Pasture Turn-out
Daily Stall Cleaning
Daily Turn Outs
Draft Horse
Dressage
Education
English
English Pleasure
Equitation
Eventing
Excellent Care
Foaling Facilities
Full Service Boarding Facility
Full Tack Room
Gaited Breeds
Geriatric Horse Care
Grass
Grass Fields
Great Care
Horse Breeding Program
Horse Injury Rehabilitation
Horse Retirement Care
Horse Sales Preparation
Horse Training
Horseback Riding Lessons
Horses for Sale
Horses For Sale And Lease
Hunter Jumper
Hunter Under Saddle
Hunters
Individualized Care
Indoor Riding Arena
Jumping
Lay-ups
Layovers, Stopovers
Layups
Leasing
Lesson Horses
Lessons
Longe Line Lessons
Open 7 Days a Week
Outdoor Arena
Overnight Stabling
Owner On Premises
Pasture Board
Pastures
Peaceful & Quiet Setting
Peaceful And Relaxing
Personal Attention Given To Each Horse And Human
Personalized Care
Pole Bending
Polo
Pony Club
Private Riding Lessons
Quality Care
Reining
Retirement With Full Care
Riding
Riding Clinics
Riding Lessons
Riding Lessons for Adults
Riding Lessons for Children
Round Pen
Stables
Stall Boarding
Stallions
Supporting All Breeds And Riding Styles
Trail Rides
Trail Riding
Trailer Parking Available
Trainer On-site
Training
United States
Wash Rack
Wash Racks
Weekly Stays
Western
Western Dressage
Western Pleasure
Young Riders Welcome
Youth