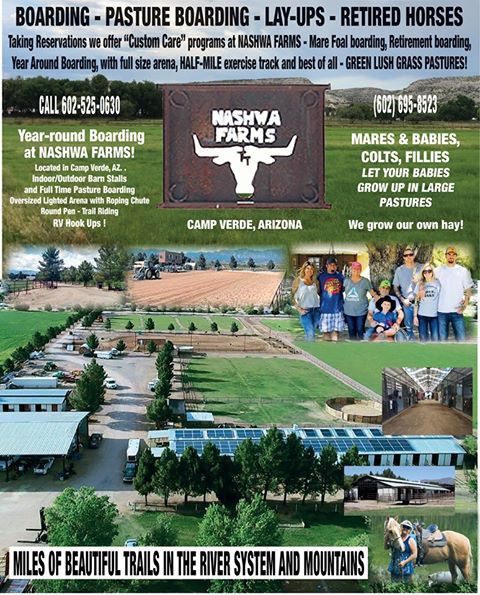 www.nashwafarms.com located in Camp Verde Arizona close to Sedona Arizona ONLY 4 MILES FROM HWY I 17
CAMP VERDE ARIZONA Nashwa Farms Camp Verde Private Historical Family Farm & Horse Sanctuary
AZ Year Around Boarding, Summer Boarding, Winter Boarding, Camping with your Horse & LQ's RV Hookups with Stalls Layovers - Open 7 Days a Week, Trail Riding, Boarding, Stables, Pastures, All Breeds & Disciplines Are Welcome, Arenas, 1/2 Mile Exercise Track, Round Pen, Horse Injury Rehabilitation, Veterinary Care onsite, Farrier Care onsite, Dentist and Chiropractic Care available on site, grooming care, exercise horses are additional services we provide for our clients - guests.
3500 West Mahoney Road
Camp Verde Arizona 86322
McKenzie 602-695-8523
Tonya 602-525-0630
www.nashwafarms.com
• Only 4 miles from I 17 and Middle Verde Road
• Only 4 miles from Cliff Castle Casino
• Camp Verde Rodeo Arena only minutes away
• Riding Trails surrounding our Historical Farm
• Camping Spots
• RV Hookups
• Horse stalls • Horse stalls for camping
• Farm grown hay sold at our facility
Call for your reservation – we are open 7 days a week
Convenient Location all paved roads and lots of parking
We take ZELLE payments / Paypal for reservations & monthly payments
McKenzie Wiertzema (nashwamanager@gmail.com)
- 602-695-8523
Tonya Wiertzema nashwafarms@gmail.com - 602-525-0630
www.nashwafarms.com
Historic FARM established 1876 on 60 acres offering GREEN Pasture Turns outs, Boarding Full Care, Horse Covered Barn with piped runs, Year Around Boarding, Summer Time Boarding get OUT OF THE HEAT, Winter Boarding get out of the SNOW, Retirement Boarding, Give your EQUINE athletes deserve some time OFF - Shade Trees, Grazing, Cooler weather, Rehab Services, SUPERVISED CARE, PIPE FENCING, SAFE, Gated, 1/2 mile EXERCISE TRACK, Veterinary & Farrier Services, Full Time On Site Care Givers 24/7 supervision we are FAMILY OWNED & OPERATED OVER 30 YEARS
CAMP VERDE ARIZONA IN NORTHERN ARIZONA offers: YEAR AROUND BOARDING for all types of horses, Performance, Layups, Rehab, Retired horses, Young horses to grow up with ample leg room, we have Farrier Care and Vet Care on site or use your own personal farrier or vet.
TURN OUTS - RETIRED HORSES enjoy the green grass and shade trees. Secure- Peaceful environment.
We also offer Full Care Horse Boarding- Rehab- Retired Horses- get out of the HEAT Summer months boarding.
REHAB SERVICES - TheraPlate - Beamer - Game Ready - Round pen - Hand Walking - Treatments & Therapy is offered
Retire your favorite horse to a life of green grass and shade trees in Camp Verde AZ NORTHERN ARIZONA-location in Camp Verde, Arizona located only 4 miles from Cliff Castle Casino - NORTHERN AZ - Nashwa Farms located in Camp Verde AZ - by Cliff Castle Casino- NORTHERN ARIZONA offers you: TURN OUTS FOR RETIRED HORSES - HORSES THAT NEED DOWN TIME - SHORT TERM - LONG TERM - YEAR AROUND BOARDING -
LIFE TIME CARE Programs - we will provide you with the peace of mind that your best friend is going to be taken care of for the rest of their lives living in green pastures, daily care, special diets for our SR Horses.
40 horse inside stalls with piped outside runs, pastures to let your horses relax and graze.
Full time Caregivers on site with veterinary & farrier services locally.
Arena with LED Lights, round pen, horse walker, access to the state land for trail rides, access to river frontage for trail riding,
EXERCISE TRACK - RACE TRACK 1/2 mile for exercising and legging up your horse or have our riders keep your horses legged up for you.
CALL FOR Reservations
McKenzie Wiertzema (nashwamanager@gmail.com) - 602-695-8523
Tonya Wiertzema nashwafarms@gmail.com - 602-525-0630
Specialties
1/2 Mile Exercise Track
2. Veterinary Available
A Multi Discipline Facility That Is Meticulously Maintained
Affordable Horse Boarding Rates
All Ammenties For Horse And Rider
All Around Events
All Breed Facility
All Breeds And Disciplines Are Welcome
All Disciplines and Riding Levels Welcome
APHA
AQHA
Arena
Arena Rental
Arena Rental - Retirement Home - Turn Outs - Boarding - Mare Foa
As Well As Individual Paddocks. Full Car
AZ
Bathroom
Beautiful
Beginner Lessons On Own Or School Horses.
Blanketing
Board
Boarding
Broodmare And Foal Care
CAMP VERDE ARIZONA IN NORTHERN AZ.
CAVE CREEK
CLEAN AND NEAT
Conditioning
Contact For Your Personalized Quote
Contact Us For Details.
Daily Handling Of Horses
Daily Individual Turnouts
Daily Pasture Turn-out
Daily Stall Cleaning
Daily Turn Outs
Daily Turnout
Education
Equine Chiropractics
Eventing
Excellent Care
Family
Family Friendly
Family Owned And Operated
Farrier On Call
Farrier Services
Feed
Free Trailer Parking
Friendly
Full Board
Full Care
Full Service Boarding Facility
Full Service Private Stable With A Family Atmosphere
Full Service Training And Boarding Facility
Full Tack Room
Full Time
Geriatric Horse Care
Grain Twice Daily
Grained Twice Daily
Grass
Grass Fields
Great Care
Great For Retired Horses
Green Business Using Renewable Energy
Grooming
Hay Sales Farm Grown Hay Sales
Horse
Horse Boarding
Horse Events
Horse Injury Rehabilitation
Horse Leases Available
Horse Retirement Care
Horse Sanctuary Personalized Care for the Life of Your Best Frie
Horse Training
Horse Transport Available
Horseback Riding Lessons
Horses for Sale
Hot/cold Wash Rack
I Personally Care For Each Horse In This Facility.
Ideal For The Multi-horse Owner
Individualized Care
Indoor Outdoor Wash Rack
Indoor Stalls Or Turn-out Pasture
Indoor/outdoor Grooming Space
Jumping
Kindness
Lay-ups
Layovers
Layovers, Stopovers
Layups
Long Term Rv/stalls Layovers
Lounge And Bathrooms
Loving Farm
Mare & Foal Boarding
Natural Horse Boarding
Natural Horsemanship
Open 7 Days a Week
Outdoor Arena
Overnight Stabling
Owner Lives On Site
Owner Lives On The Farm
Owner On Premises
Owner/Manager Lives On Site
Owners Live On Site! We Know What Our Horses Want 24 Hours A Day
Owners Live On Site.
Paddocks
Partial Care Boarding
Pasture
Pasture Board
Pastures
Peaceful & Quiet Setting
Peaceful And Relaxing
Personal Attention Given To Each Horse And Human
Personal Care For Each Horse
Personalized Attention To Each Person And Horse
Personalized Care
Personalized Horse Boarding Options Including: Grooming
Private
Private Pastures Avaliable for Your Own Horses Only
Private Riding Lessons
Quality Care
Quality Horse And Pony Sales
RACE TRACK
Reasonable Rates
Rehab Services
Rehab Services for Layups
Relaxed Environment
Retired Horses
Retirement
Retirement With Full Care
Riding Clinics
Riding Trails Available
Round Pen
Rv Camping
Rv Hookups
RV Parking
RV Rental Short Term And Long Terms
Senior Horse Care
Short Term Rv/stalls Layovers
Special Care Offered
Special Events Are Hosted at Nashwa Farms
Stables
Staff Lives Onsite
Stall Boarding
Summer Turn Outs
Supporting All Breeds And Riding Styles
Tack Room
Temporary Boarding Available
Theraplate - Beamer - Game Ready - Rehab Services
Trail Riding
Trailer Parking Available
TURN OUTS
TURN OUTS - RETIRED HORSES - GREEN GRASS- SHADE TREES - SECURE -
TURN OUTS FOR SUMMER
TURNS OUTS FOR MEDICAL ISSUES
TURNS OUTS FOR RETIRED HORSES
TURNS OUTS FOR VACATION
United States
Vacation Layovers
Veterinary Care
Wash Rack
Wash Racks
We Live On Site
Weanlings & Young Horses Boarding
Weekly Stays
WINTER VISTORS WELCOME
You An Your Horse Are Part Of The Family Here
Youth