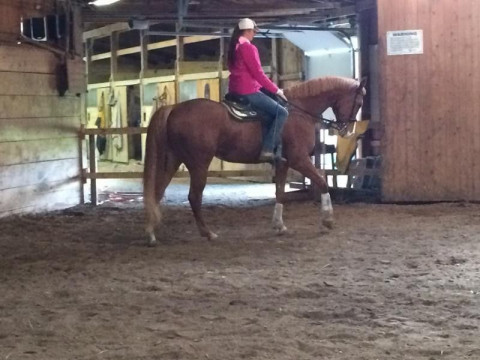 We are conveniently located near U.S. 20 and I-90 in Garden Prairie, IL. We are open 7 days a week and 24 hours a day. We offer full care boarding, training/breaking, lessons, etc. Our on-site barn manager/trainer, Dinah, is dedicated to the horses and loves her job.
Our facilities include an indoor arena, turn out, heated lounge, 2 tack rooms, and in the spring 2015 we will have an outdoor arena, more turnouts, a wash rack with hot water, new footing for the indoor arena, and a large dirt track around our hay field.
Pricing:
-FULL CARE BOARD- $350 a month, includes- hay 3 times a day, Safe Choice grain twice a day, blanketing, bell boots, daily turn out weather permitting (group or individual), giving of supplements, etc.
-FULL CARE BOARD WITH TRAINING/BREAKING- $500 a month.
-LESSONS- $20 for a 1/2 hour. Lessons are given by Dinah but you are welcome to use your own instructor as long as they have insurance.
-RIDING/LUNGING- If you want your horse lunged or rode Dinah can take care of that for you, $20/session, includes- cool down and grooming.
We have a great group of horses and owners. We have had 5 new horses join us since we opened in October 2014. The environment at Hope Springs Eternal Farm is welcoming and inspiring. The friendly atmosphere makes everyone feel right at home. Everyone here loves their horses and there is a strong sense of community. Our goal is to have happy, healthy horses. We encourage everyone to follow their dreams and love their horses.
If interested please call or email Dinah at to set up a visit or for more information. Thank you!
Specialties
4-H
Affordable Horse Boarding Rates
All Breeds And Disciplines Are Welcome
All Disciplines and Riding Levels Welcome
And Lessons Available.
Arena
Beautiful
Blanketing
Boarding
Daily Turn Outs
Excellent Care
Full Service Boarding Facility
Grass
Horse Training
Horseback Riding Lessons
Individualized Care
Indoor Riding Arena
Lessons
Open 7 Days a Week
Peaceful & Quiet Setting
Peaceful And Relaxing
Personal Attention Given To Each Horse And Human
Personalized Care
Quality Care
Riding Lessons for Adults
Riding Lessons for Children
Round Pen
Stall Boarding
Trainer On-site
Young Riders Welcome