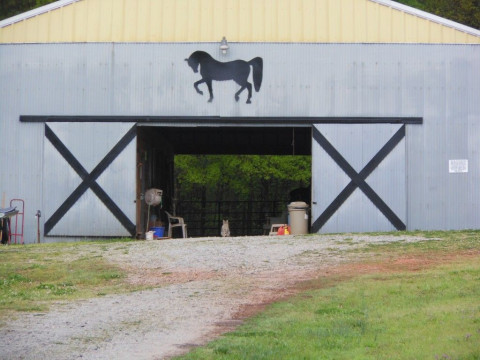 Spring Lake Farms, is located in historic Covington, Georgia east of Atlanta off Interstate 20 and includes 60 ft board round pen, 100 x 200 riding ring, hot and cold wash rack, tack room and bathroom, safe 2 x 4 horse wire fencing, trailer parking and 21 acres of pasture all for the price of $300 monthly for full board. Our stalls are 11 ft X 13 ft, matted with fans in the hot summertime. We will blanket your horse in the winter if needed. If your horse needs special supplements or smark- paks that is fine too.
We feed alfalfa orchard grass hay from Kentucky and Southern States 10% pellet grain twice daily. The horses are turned out every day weather permitting. We can accommodate as few as 2 horses in one pasture together. We live on the premises and are retired. We have trailer rental so our customers do not have to purchase one of their own. We also have RV hookup for over-nighters.
We are located near many wonderful trail riding facilities such as, International Horse Park in Conyers, Charlie Elliott Game Ranch and trails and Hard Labor Creek State Park. All are less than 20 minutes from the farm. We have been handling and showing horses since 1973 and have room for a couple more so please come visit and see what you think.
Specialties
Affordable Horse Boarding Rates
All Breeds And Disciplines Are Welcome
Blanketing
Daily Handling Of Horses
Daily Pasture Turn-out
Full Service Boarding Facility
Horse Retirement Care
Horse Transport Available
Layovers, Stopovers
Open 7 Days a Week
Peaceful & Quiet Setting
Round Pen
Stall Boarding
Trail Riding
Trailer Parking Available
Wash Rack
Weddings