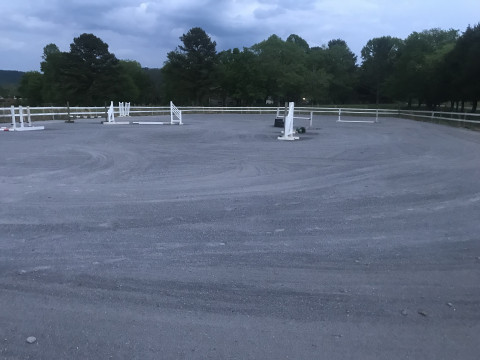 We are a private boarding & training facility. Full board with lots of extra amenities starting at $400. We also offer self-care pasture board. We pay extra attention to detail. Large matted stalls, day or night turnout, stall cleaning, premium feed with customized feed program, deworming, blanketing, hold for vet/farrier, secure tack room, 100x200 sand arena, round pen, trailer parking. Trainer on site & available for riding lessons and training of horses with natural and classical principles. All disciplines are welcome. We also now offer western dressage lessons. Safety is our priority. Certified Biomechanics instructor.
Specialties
4-H
A Multi Discipline Facility That Is Meticulously Maintained
Affordable Horse Boarding Rates
All Breeds And Disciplines Are Welcome
All Disciplines and Riding Levels Welcome
And Lessons Available.
And Providing Lessons For Beginner And Intermediate Rider
APHA
AQHA
Arena
As Well As Individual Paddocks. Full Car
Bathroom
Beautiful
Beginner Lessons On Own Or School Horses.
Behavior Modification
Biomechanics
Blanketing
Board
Boarding
Breaking
Broodmare And Foal Care
Certified Instructor
Colt Starting
Contact Us For Details.
Cross Country
Daily Handling Of Horses
Daily Individual Turnouts
Daily Pasture Turn-out
Daily Stall Cleaning
Daily Turn Outs
Draft Horse
Dressage
Driving
Education
English
English Pleasure
Equitation
Eventing
Excellent Care
Foaling
Foaling Facilities
Full Board
Full Service Boarding Facility
Full Service Private Stable With A Family Atmosphere
Full Tack Room
Full Time
Geriatric Horse Care
Grained Twice Daily
Grass
Grass Fields
Great Care
Great For Retired Horses
Grooming
Horse Boarding
Horse Breeding Program
Horse Injury Rehabilitation
Horse Leases Available
Horse Retirement Care
Horse Sales Preparation
Horse Training
Horse Transport Available
Horse/Pony Birthday Parties
Horseback Riding Lessons
Horses for Sale
Horses For Sale And Lease
Hunter
Hunter Jumper
Hunter Under Saddle
Hunters
I Personally Care For Each Horse In This Facility.
Ideal For The Multi-horse Owner
Individualized Care
Indoor Riding Arena
Jumper
Jumping
Lay-ups
Layovers, Stopovers
Layups
Leasing
Lesson Horses
Lessons
Lessons Available
Longe Line Lessons
Loving Farm
Mare Care
Natural Horsemanship
Open 7 Days a Week
Outdoor Arena
Overnight Stabling
Owner On Premises
Pasture
Pasture Board
Pastures
Peaceful & Quiet Setting
Peaceful And Relaxing
Personal Attention Given To Each Horse And Human
Personalized Care
Pony Club
Private Riding Lessons
Problem Horses
Quality Care
Rehabilitation
Retirement With Full Care
Riding
Riding Clinics
Riding Lesson Program
Riding Lessons
Riding Lessons for Adults
Riding Lessons for Children
Riding Trails Available
Round Pen
Safety Courses
Show Horse
Showing
Showing Program
Showjumping
Stables
Stall Boarding
Stallions
Starting Horses
Supporting All Breeds And Riding Styles
Tack Room
Trail Riding
Trailer Parking Available
Trainer On-site
Training
Warmblood
Wash Rack
Wash Racks
Western Dressage
Western Pleasure
Working Student Program
Young Horse Training
Young Riders Welcome