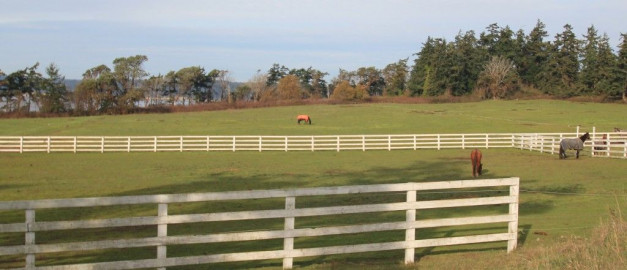 Welcome to RedTree Stables. We are a private, relaxed, truly family friendly, full-care horse boarding facility that provides top quality care for horses. Your horse's health, safety and comfort are our top priority. We are located on 20 acres in Coupeville, centrally located in the heart of beautiful Whidbey Island. We are 10 minutes from Oak Harbor and 5 minutes from the Port Townsend ferry. Enjoy the picturesque ocean and mountain views while riding in our 100'x200' lighted sand arena. Each horse at our facility has 24 hour access to both a large 12'x 14' indoor stall and large grassy pasture. Group and individual turnout options are available. Riding trails are accessible from the property and include wooded areas, prairie trails, beach access and a short hack or trailer ride to Fort Ebey Kettles Park Trails.
Full care board at RedTree Stables is $425/month and includes:
• Individualized feeding plans based on your horses nutritional needs
• Morning and evening feedings consisting of a variety of hay and grain options
We specialize in senior horse care
• Supplements provided by owner are fed at no additional cost
• Open access to a stall with individual or shared pasture turnout
• Use of all common areas; barn, arena, hot wash rack, round pen, and children's play area
• Private tack locker and space for one additional tack trunk
• Free blanketing.
• Open 365 days a year
• Trailer parking onsite at additional cost
• Multiple horse discounts and field board options
• Scheduling and handling for veterinary and farrier care available
• Riding lessons and horse training available on site
Please contact us for more information or for a tour of our facility.
Specialties
Affordable Horse Boarding Rates
All Breeds And Disciplines Are Welcome
All Disciplines and Riding Levels Welcome
Arena
Beautiful
Beginner Lessons On Own Or School Horses.
Blanketing
Board
Boarding
Daily Handling Of Horses
Daily Individual Turnouts
Daily Pasture Turn-out
Daily Turn Outs
Dressage
English
Eventing
Full Service Boarding Facility
Geriatric Horse Care
Grass
Grass Fields
Group Activities
Group Instruction
Horse Leases Available
Horse Retirement Care
Horse Training
Horseback Riding Lessons
Individualized Care
Jumping
Lay-ups
Layovers, Stopovers
Leasing
Lessons
Open 7 Days a Week
Outdoor Arena
Overnight Stabling
Pasture Board
Pastures
Peaceful & Quiet Setting
Personal Attention Given To Each Horse And Human
Personalized Care
Private Riding Lessons
Retirement With Full Care
Riding Lessons
Riding Lessons for Adults
Riding Lessons for Children
Riding Trails Available
Round Pen
Stables
Stall Boarding
Trail Riding
Trailer Parking Available
Trainer On-site
Veterinary Care
Wash Rack
Weekly Stays
Western
Western Pleasure