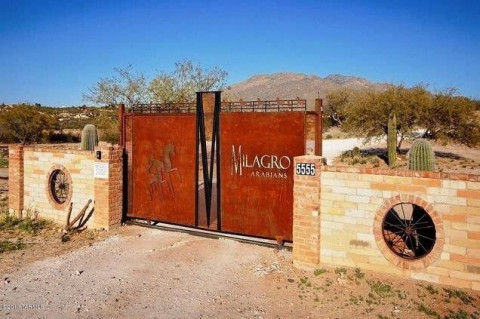 Milagro is a new boarding facility on Tucson's far east side of town. We have a beautiful facility consisting of just under 20 acres adjacent to peaceful riding trails with stunning views. This is a hidden gem for any horse lover. Sick of muddy stalls and an overcrowded barn? Then this is the place for you. We have twenty gorgeous 16x12 indoor stalls (4 with runs) and ten 12x16 pipestalls, two heated water racks and two grooming areas, clean and organized barn kitchenette with laundry facilities, spacious tack rooms, two amazing and HUGE pastures, two large lighted arenas to cater to both English and Western disciplines, with one top of the line roping arena. Our English arena, round pen and indoor stalls have professional footings and outstanding drainage. Our stalls do not flood! Our round pen and turnouts are great sizes. All stalls have mats and automatic waterers. Barn is equipped with an automatic fly mister system to keep flies to a minimum, stalls are cleaned 2x daily and manure is hauled offsite. Fresh premium grindings are included with board. Free trailer parking! Milagro also features a stunning entertainment facility for 4H meetings, horse owner workshops, parties, etc. Owners live on property and facilities are maintained by knowledgeable, qualified and friendly caretakers. All Milagro boarders become VIP customers at Taylor Tack & Feed and receive a 15% discount on all non-feed purchases. Our board rates are competitive. Trainers are welcome.
Specialties
2. Veterinary Available
4-H
A Multi Discipline Facility That Is Meticulously Maintained
Affordable Horse Boarding Rates
All Breeds And Disciplines Are Welcome
All Disciplines and Riding Levels Welcome
And Lessons Available.
And Providing Lessons For Beginner And Intermediate Rider
Arabians
Arena
Barrel Racing
Bathroom
Beautiful
Beginner Lessons On Own Or School Horses.
Blanketing
Board
Boarding
Breaking
Broodmare And Foal Care
Contact Us For Details.
Daily Handling Of Horses
Daily Individual Turnouts
Daily Pasture Turn-out
Daily Stall Cleaning
Daily Turn Outs
Draft Horse
Dressage
Driving
Education
English
English Pleasure
Equitation
Eventing
Excellent Care
Farm Sitting
Farrier Services
Foaling Facilities
Full Service Boarding Facility
Full Tack Room
Full Time
Gaited Breeds
Geriatric Horse Care
Grass
Grass Fields
Great Care
Grooming
Group Activities
Group Instruction
Horse
Horse Leases Available
Horse Retirement Care
Horse Training
Horse/Pony Birthday Parties
Horseback Riding Lessons
Horses for Sale
Horses For Sale And Lease
Hunter Jumper
Individualized Care
Jumper
Jumping
Leasing
Lesson Horses
Lessons
Lessons Available
Open 7 Days a Week
Outdoor Arena
Owner On Premises
Pastures
Peaceful & Quiet Setting
Peaceful And Relaxing
Personal Attention Given To Each Horse And Human
Personalized Care
Private Riding Lessons
Quality Care
Reining
Retirement With Full Care
Riding
Riding Lessons
Riding Lessons for Adults
Riding Lessons for Children
Riding Trails Available
Round Pen
Stables
Stall Boarding
Supporting All Breeds And Riding Styles
Tack Room
Team Roping
Trail Rides
Trail Riding
Trailer Parking Available
Trainer On-site
Training
United States
Wash Racks
Western
Western Dressage
Western Pleasure
Young Riders Welcome
Youth