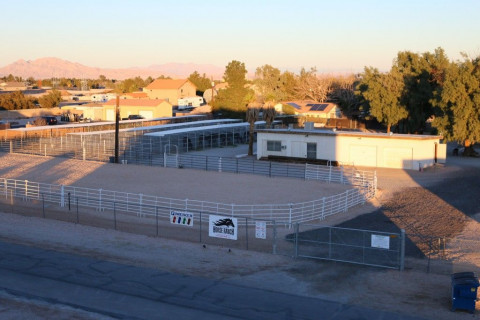 Las Vegas Horse Ranch is "Country Calm in Sin City"
Seeking Monthly and Overnight Boarders
LVHR is a full service facility, we are only accepting 20 qualified monthly clients. We are the only Equine Biosecure Facility in Las Vegas where horse health is a top priority. We are the #1 South Point referral location.
LVHR Hours: 6am to 10pm Daily (24 hour access for Boarders)
After Hours: Call 775-296-LVHR (5847)
Ranch Manager: William "Carey" Lindley
FEATURES:
On-site Staff: Two staff 24 hours a day
Stalls: Brand new 24 foot by 12 foot by 6 foot high galvanized welded wire stalls that are half covered by a sun and weather shade. Just beautiful!
Equine Sand: The only facility in Las Vegas with Equine Sand, a special coarse grain sand that allows urine and water to pass through, keeping horses feet dry, preventing thrush, while not allowing a horse to ingest and colic. (See photo of hand with Equine Sand)
Lighted Bridal Path: A full 1/4 Mile bridal path encircles our ranch where you can ride or walk around our facility. Very peaceful way to cool down after working your horse. Completely de-rocked in February 2017.
Lighted Arena: Spacious 180' x 80' Arena with soft sand/dirt mix with rocks removed mechanically. Completely de-rocked in February 2017.
Lighted Round Pen: Large 60' Round Pen with soft sand with rocks removed.
Tack Room: Included with board. Refrigerator for supplements and medications.
Wash Rack: Available for use
Grooming Rack: Available for use
Boarding Services Fee Includes:
Twice daily feedings (Orchard Grass Alfalfa Mix hay) (Cubes available)
Twice daily water check
Twice daily stall cleaning
Additional Fee Services Available:
Horse Training, Turn Out, Washing, Grooming, Graining, Supplements, and More
Trailer Parking: Leave your horse trailer or RV with us
Horse Trainers Welcomed!
Monthly Boarding Fee: $350-$450
Overnight Board Fee: Depends upon availability
We provide a relaxing and worry free environment to board, train and ride your horses. Our friendly, knowledgeable, on-site staff is here 24/7 to meet your needs. At Las Vegas Horse Ranch we provide a top notch facility, with unrivaled customer service and superior quality care for your horse. We are an Equine BioSecure Facility. We require Health Certificate and Coggins at check in. We require a temperature on every horse entering the facility. We using BioSynt Ag Wash to sanitize all stalls between uses. We do not allow sharing of feed and water buckets. We want your horse to arrive healthy and leave healthy. We take Equine BioSecurity seriously for you and your horses.
Should you have any questions prior to, during or after your stay with us please do not hesitate to contact us. We thank you for the opportunity to serve you and your horse.
Come see what we mean by "Country Calm in Sin City". Come by and check us out! Become part of the exclusive LVHR family!
Specialties
2. Veterinary Available
A Multi Discipline Facility That Is Meticulously Maintained
Affordable Horse Boarding Rates
All Breeds And Disciplines Are Welcome
All Disciplines and Riding Levels Welcome
And Lessons Available.
APHA
AQHA
Arabians
Arena
Barrel Racing
Beautiful
Beginner Lessons On Own Or School Horses.
Blanketing
Board
Boarding
Colt Starting
Daily Handling Of Horses
Daily Individual Turnouts
Daily Stall Cleaning
Daily Turn Outs
Draft Horse
Dressage
Education
English
English Pleasure
Equitation
Eventing
Excellent Care
Full Service Boarding Facility
Geriatric Horse Care
Grass
Grass Fields
Group Activities
Horse Injury Rehabilitation
Horse Leases Available
Horse Rescue and Adoption
Horse Retirement Care
Horse Summer Day Camp for Kids
Horse Training
Horse Transport Available
Horseback Riding Lessons
Hunter Jumper
Individualized Care
Layovers, Stopovers
Open 7 Days a Week
Outdoor Arena
Overnight Stabling
Peaceful & Quiet Setting
Peaceful And Relaxing
Personal Attention Given To Each Horse And Human
Personalized Care
Private Riding Lessons
Quality Care
Riding Lessons
Riding Lessons for Adults
Riding Lessons for Children
Riding Trail That Goes Around The Entire Perimeter Of The Proper
Riding Trails Available
Round Pen
Safety Courses
Stables
Stall Boarding
Trail Riding
Trailer Parking Available
Trainer On-site
United States
Veterinary Care
Wash Rack
Weekly Stays
Western
Western Pleasure
Working Student Program
Young Riders Welcome
Youth