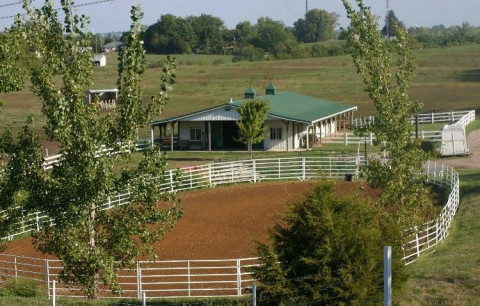 Sunset Hill is located on 85 acres just 5 minutes from town! What a convenient place to keep your best friend so you can spend everyday with your horse without the long drive. Complete with green pastures, auto waterers, cozy sheds your horse will love living in a safe social group of horses with daily attention and care.
If a stall is where you horse likes to spend some time we provide full care stall board with hay, Purina feed, and daily turnout all included in basic board. We have 12 stalls to choose from in two sizees, also some options for private paddocks.
We have other well kept amenities such as an outdoor arena with all weather footing,
round pen, 40 acres of cut trails,
extreme and not so extreme obstacle course to play on and so much more to make your time spent here enjoyable.
We offer a wide range of boarding options to fit needs. We have a great geriatric retirement program we have several residents over 25 and some over 40. We treat every horse like one of our own and it shows!
We are a small facility only taking on good, honest, safe, and most importantly happy clients.
Give us a call.
Specialties
Affordable Horse Boarding Rates
Arena
Blanketing
Board
Daily Handling Of Horses
Daily Turn Outs
Grass Fields
Individualized Care
Lessons
Open 7 Days a Week
Personalized Care
Private Riding Lessons
Riding Lessons for Adults
Riding Lessons for Children
Trail Riding
Trailer Parking Available
Wash Rack