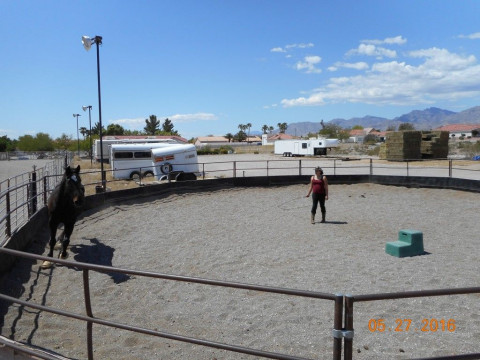 A clean, laid back, easily accessible location to board your horse(s); without lots of rules, and that is for horse owners of all ages and riding levels.
Stable shared common features:
- Fully lit mare motel
- 140 X 250 foot lit, fairground size, sanded arena
- 40 foot lit, sanded round pen
- 2100 square foot turnout paddock with stock tank
- Wash rack
- Full, indoor bathroom with washer/dryer
- Multiple tack rooms
- Two multi-horse hitching rails, one with flood lights for night usage
- Moveable saddle stands at hitching rails
- Shaded seating area behind main hitching rail
- Picnic table next to arena and round pen gates
- Owner and stable personnel live on grounds
Corrals/stalls individual features:
- 12 X 24 foot corrals/stalls
- Fully covered
- Half walls
- Automatic waterer
- Wall feeder
- Multi hook halter/bridle holder
- Private area in front for storing boarder's supplements, buckets, and other misc. items
Services/features provided for each boarder:
- 24/7 access to horse(s) and all stable facilities
- Choice of two types of hay: grass or alpha
- Twice a day feedings
- Once a day corral/stall cleaning, seven days a week
- Tack room key
- Free parking/storage of one horse trailer per boarder
- Assistance with turnouts and feeding of supplements by arrangement
- Boarders may utilize at their expense any vet, farrier, trainer, and/or instructor of their choosing
- Twice a year stable visits arranged with local veterinarians for vaccinations, dental checkups, and other services boarders may wish to procure. Participation optional.
Contact information, location, and riding choices:
- For further information call or text
- In NW side of town, on corner of Durango and Log Cabin Way, directly across from Floyd Lamb park
- Easy access from 215 and/or 95 North
- Independent feed stores and saddlery located in close proximity
- Beautiful views of Vegas strip, Mt. Gass, and Spring/Sheep Mountain ranges from riding arena
- Many riding choices from park, to desert, to round pen, to arena, to nearby neighborhood riding trails