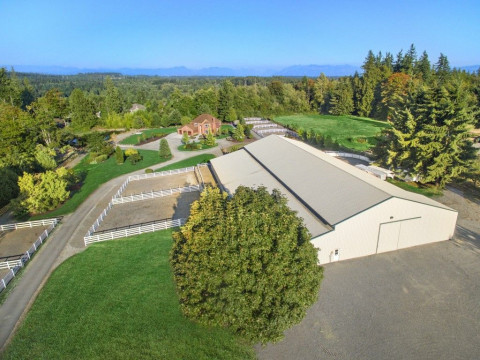 Dutch Hill Boarding, LLC in Snohomish, WA has stall openings beginning March 1st 2017. We are located forty-five minutes north of Seattle, WA and conveniently located in Snohomish County with easy access to surrounding cities, such as Everett, Mill Creek, Lake Stevens, Monroe etc. Conveniently located just two miles from Pilchuck Veterinary Hospital. Dutch Hill Farm is newly renovated with an all new arena, including new laser leveled base, dustless silica/fiber blend footing from FootingsFirst, LLC and new walls, all new stall walls, some with social bars and some with dutch doors, new lighting in barn aisle and stalls, updated and heated tack room, lounge and bathroom. We are a dressage-focused facility, but not limited to, and the home of DuoStar Dressage, who are available for training programs or lessons as needed (training is not required to board, no outside trainers).
Full Board ($675.00 per month) includes:
-Daily turnout (guaranteed half day/ 7days a week)
-Fed premium timothy hay four times per day (alfalfa also available)
-Fed grain two times per day (beet pulp and special blend pellets included. Enrich and LMF provided at additional cost per month or owner provided supplements in baggies at no additional cost per month)
-Daily stall and water bucket cleaning
-Manager lives onsite
-Full use of facility (including 60X168 indoor arena, heated tack room, bathroom, and lounge etc.)
-Heated wash rack
-Use of locker/loft storage
-Hack trail
-Outdoor arena (coming soon!