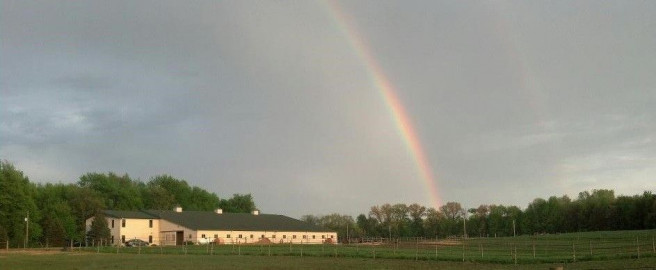 A beautiful, owner operated, well maintained facility providing top notch care to horses and riders of all disciplines. Amenities include:
10 * 12 box stalls cleaned daily, 7 days a week
Water buckets dumped and scrubbed daily
Daily turnout averaging 10+ hours, weather permitting
Run in shelters in every pasture
Large pastures on 37 acres that are fertilized, mowed and rotated
60 * 120 indoor arena with mirrors, quality lighting and dust control
150 * 2300 outdoor arena with lights
Night check/feeding
Heated bathroom
Heated observation room
2 hot and cold wash racks
3 tacking/grooming areas
Safe fencing and gates
Round bales fed outside in winter using Hay Hut feeders
Mud control panels in front of gates and other areas
Tribute feeds
Quality hay purchased from one supplier to ensure consistency
Instructors available for a variety of lesson types
Jump standards and rails
Rails and letters for a full dressage court
Fly prevention/control (fly predators and/or feed through)
Towel/rag availability for horse bathing/tack cleaning
Horses hand walked in/out for turnout
Radio and PA system for indoor arena
Regular facility updates
Owners live on site
Please note - we do not offer pasture board, long term stall board (rehab) or individual turnouts/dry lots. We do not accept horses with vices such as cribbing, weaving, or inability to be pastured with others. Please visit www.bairdcroft.com for more information, Contact us directly (not through this site) to inquire about openings. We also do not offer riding lessons or trail rides.