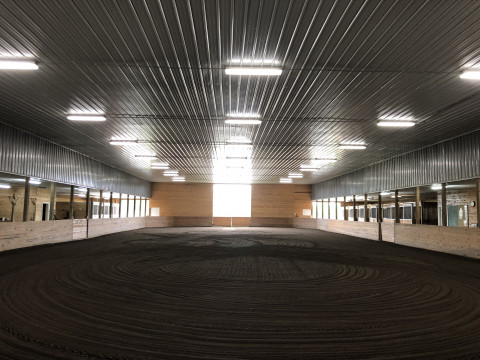 Amicus Stables is now offering Elite Full Care Stabling to select clients in Webberville, MI! We are a stress and drama free facility that is open to all disciplines. All inquiring customers must include references, also note any considered horses must be up to date on all veterinary care and must be able to provide proof of a current coggins test and vaccinations.
Our full care stabling rate is $975 per month and includes:
- 1 complimentary Equine Magna Wave PEMF Therapy Treatment
- daily stall cleaning
- daily outdoor turnout; private or group turnout options (weather and workforce permitting)
- quality first and second cut hay fed up to three times daily
- Tribute Kalm N Ez grain fed twice daily
- supplied supplements fed at no extra charge
- 4 bags of bedding per week
- water buckets and troughs bleached regularly
- use of facilities including a private tack locker, regularly drug 60'x150' dust free indoor arena and 110' x 210' outdoor arena, hot and cold water indoor wash rack, observation room, bathroom, lots of sitting and hang out areas for your friends and family
- 24hr video surveillance and owners living on site for your horses and properties safety
- owner lives onsite
- barn scheduled farrier and veterinary visits (holding services available at $20/visit)
- additional care options available; let us come up with a customized care plan for your horse!
Join us in our slice of horsey heaven! Please send us a message or contact Ashleigh for more information at .
ATTN: The way this site is set up we may not be able to view your contact information. To ensure a response to your inquiry please contact us directly via email, phone call, text ) or send us a message on Facebook not through newhorse.com.