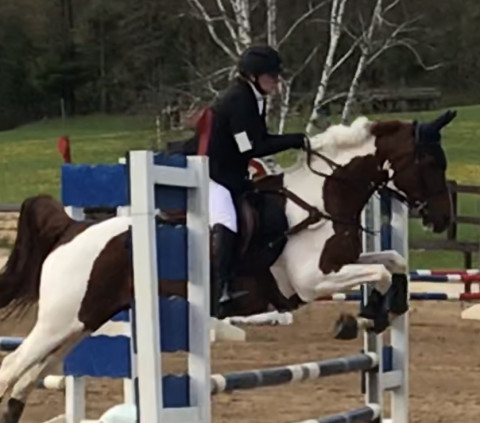 Boarding, Training, Lessons, Leases and Coaching available
We offer training for Dressage, Eventing, Hunter, Jumper, and Casual Riders. A relaxed and friendly environment for horses, riders and spectators that are competitive or just want to improve their horse/riding.
Exceptional and individualized care for you and your horse at our boarding facility. We offer training, coaching and trailing.
We have a large well lighted, groomed 80x200 indoor arena with Tepeta (NO DUST) footing and an observation deck that is comfortable for year round riding. Forced air heat in the indoor arena to keep warm for the winter and 40 ceiling fans keep you and your horse cool and comfortable in the summer.
Spacious 100x300 outdoor arena with ag-lime footing and observation deck is secluded among large beautiful old oak trees.
1.5 mile long and 20' wide groomed sand trail around 80 acres over rolling hills, by alfalfa fields, awesome cross country course, large arena, and beautiful grass pastures to relax or go fast on with your horse around the perimeter of the farm. Large berms along the side of the trail when next to the county road for added privacy.
Cross country field with various jumps scattered all around the farm for multiple difficulty levels to enjoy and school over.
Multiple grass pasture options available. Your horse will get a nice long turnout during the day in group, semi-private or private turnout.
Comfortable 12x12 stalls with large awning windows, Classic Equine sliding door fronts with drop down window options, rubbermats, automatic waters, ceiling fans, and grain feeders.
Extra wide 16 barn isle so no crowded feelings.
Two 9x12 grooming stalls and two 9x12 wash stalls with hot and cold water to use year round.
Cable TVs available to watch while you are bathing or grooming your horse and more TVs in the kitchen and lounge.
State of the art in-floor heat in the concrete throughout the barn.
Nice full kitchen with Cable TV and 2 large, clean restrooms for men and women.
WIFI available in the barn.
The tackroom has a separate cubby for each horse/rider's things.
Hot and cold water with a cleaning station within the tack room.
Our horses are fed high quality Purina Strategy or Purina Equine Senior grain 2 times a day, hay 3 times a day, and any pre-measured supplements in the evening.
Owner/Trainer, Michelle Stephan, of the farm lives on property year round and does an evening check on horses nightly.
We teach multiple disciplines from beginners through advanced riders at the farm: Dressage, Eventing, Jumping and Basics in Balance in Motion. We teach for competitors as well as riders that prefer to relax and improve their riding.
Alison Sader Larson offers exceptional Dressage lessons for all levels of riders at Owl's Nest. She can help you progress up the levels.
Multiple Vet and Farrier options are available to boarders. Spring, summer, and fall vaccines and deworming are scheduled for you if you want.
Farriers keep their schedules at the barn based on what the owners want.