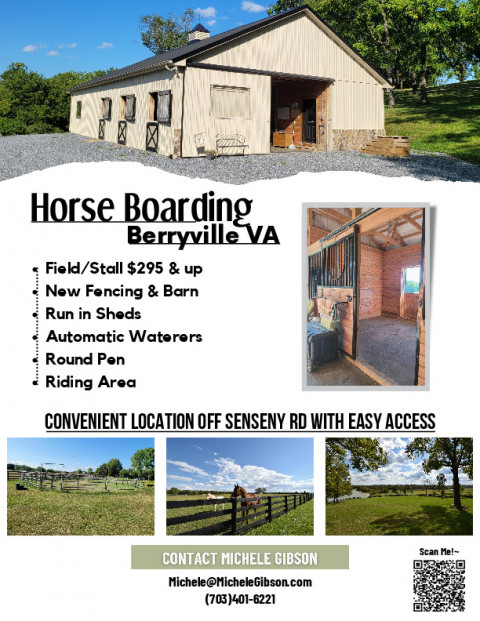 Retire at the lake! "Lake Front" horse boarding & retirement board is now available in beautiful Clarke County/Berryville Virginia ranging from $295-$495/month depending on your horse's needs.
Lakeview Farm now has openings for your best friend to retire in style on over 50 grassy acres overlooking the largest lake in Clarke County VA. We offer a peaceful, no- stress environment for you to enjoy with your best friend in their golden years. Our farm offers large and small grassy paddocks/fields to enjoy their retirement w/friends while being entertained by watching the ducks, geese, osprey, blue heron and occasional eagles that soar above (which I'm still always in awe of).
We also offer the following a la carte options (for additional charge) so you don't have to worry about a thing:
1. Clean, bright horse barn for horses that require stall board. Barn is fully equipped with a heated tack room, refrigerator & microwave, concrete wash stall & several large but cozy, stalls now available w/fans, rubber mats & Dutch doors that allow for plenty of fresh air & natural light
2. Full or self-care fields w/hands-on care such as grooming, blanketing, worming & overseeing vet and farrier visits.
3. Updates and pictures of your horse for those that are not able to visit as much as they would like so you can rest assured knowing your best friend is in proper condition and living a happy and healthy lifestyle.
4. Daily health checks and feeding w/any supplements, care or meds your horse may need.
5. Quality hay delivered to the fields into hay rings for less waste.
Call Michele at for more info.