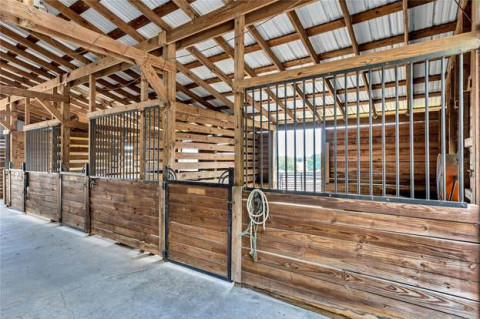 Beautiful "'El Guardado Farm" is a hidden gem in Groveland, FL located 3 miles from Lakeridge Winery & Vineyard off Florida's turnpike and only 30 miles northwest of Orlando.
We offer full care horse boarding that includes the use of the facilities, corrals, separate air conditioned tack room for your supplies/tack, wash area, 6 cross tie areas, blanketing your horse in the winter and riding trails. Your horse will always have automatic fresh, clean water and lots of grass! Turn out is 8 hours daily.
The feed for full board is equivalent to 1.5 lbs of feed twice daily. If your horse requires more feed, the price will be increased.
We will gladly feed any supplements your horse needs, you must provide it.
We live on the property and have a gated access. We keep the property very clean, including the fields which are scooped on a regular basis. We love the horses as our own and check on them a lot throughout the day.
Veterinarian and farrier available, we will be happy to keep track of your horse's schedule and make appointments as needed.
Your horse will receive a custom made wooden sign for their stall!
We do not offer pasture board.
If there is something you don't see that you would like, just ask. We try to be as accommodating as possible on most things. We do offer baths, grooming, body clipping, hosing, wrapping, medication administration, etc. Those are at an extra cost that is agreed upon.
*Feed twice daily
*Monthly de-sander
* Stall fan/mister
14x14 Stall Board:
Contact us for more information!