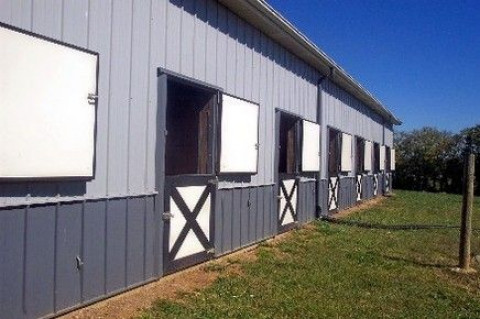 Board your horse at a caring and fun barn. Owner/Manager lives on site, and is at the barn full time. We are conveniently located right off of the interstate with easy access from Murfreesboro, Manchester, Smyrna, Nashville etc. I am 15 minutes from Murfreesboro and Manchester, and just 45 minutes from Nashville. We are a clean and safe farm, with great boarders who have made lifelong friends. Here are a few things the barn has to offer you and your horse:
Indoor and Outdoor arenas. Round Pen and obstacle course. Morton Barn with stalls that are 12x12 with dutch doors. Outdoor crossties for bathing, indoor crossties for tacking up, farrier, clipping etc. Trailer parking/storage. Turnout paddocks available for stall boarded horses. Veterinary and farrier services available. Our feed is Tucker Milling 10/10/10 and hay is orchard grass with a test result of 13% protein. John Lyons Trainer on premises.
Full Board includes feed/hay, stall cleaned daily, daily turnout weather permitting. Blanketing available (owner provides blanket) supplements provided by owner can be added to feed. $300 per month
Pasture Board includes hay and use of all facilities and is $175 per month.
Special Care Full Board includes Full Board plus daily grooming, weekly bath and lunging. $400 per month
Located off of Interstate 24, exit 97. 15 min from Murfreesboro, Shelbyville and Manchester.
Specialties
2. Veterinary Available
A Multi Discipline Facility That Is Meticulously Maintained
Affordable Horse Boarding Rates
All Breed Facility
All Breeds And Disciplines Are Welcome
All Disciplines and Riding Levels Welcome
And Lease
And Lessons Available.
And Providing Lessons For Beginner And Intermediate Rider
APHA
AQHA
Arabians
Arena
Arena Rental
As Well As Individual Paddocks. Full Car
Barrel Racing
Barrels
Bathroom
Beautiful
Beginner Lessons On Own Or School Horses.
Blanketing
Board
Boarding
Breaking
Bridleless Riding
Broodmare And Foal Care
Church Groups
Clinics
Colt Starting
Contact Us For Details.
Covered Arena
Cross Country
Daily Handling Of Horses
Daily Individual Turnouts
Daily Pasture Turn-out
Daily Stall Cleaning
Daily Turn Outs
Draft Horse
Dressage
Driving
Education
English
English Pleasure
Equine Chiropractics
Equitation
Eventing
Excellent Care
Farrier On Call
Farrier Services
Foaling Facilities
Fox Hunting
Full Care
Full Service Boarding Facility
Full Service Private Stable With A Family Atmosphere
Full Service Training And Boarding Facility
Full Time
Gaited Breeds
Geriatric Horse Care
Grained Twice Daily
Grass
Grass Fields
Great Care
Great For Retired Horses
Grooming
Ground Work
Group Activities
Group Instruction
Group Lessons
Halter
Holistic Equine Facility
Horse
Horse Boarding
Horse Injury Rehabilitation
Horse Leases Available
Horse Rescue and Adoption
Horse Retirement Care
Horse Sales Preparation
Horse Summer Day Camp for Kids
Horse Training
Horse Transport Available
Horse/Pony Birthday Parties
Horseback Riding Lessons
Horseback Riding Vacations
Horsemanship
Horses
Horses for Sale
Horses For Sale And Lease
Hunter Jumper
Hunter Under Saddle
Hunters
I Personally Care For Each Horse In This Facility.
Ideal For The Multi-horse Owner
Individualized Care
Indoor Arena
Indoor Riding Arena
Indoor Stalls Or Turn-out Pasture
John Lyons Certified
John Lyons Certified Trainer
Jumping
Lay-ups
Layovers, Stopovers
Leasing
Lesson Horses
Lessons
Lessons Available
Lodging And Camping
Longe Line Lessons
Loving Farm
Natural Horsemanship
Obstacle Course
Obstacle Course Training.
Open 7 Days a Week
Outdoor Arena
Overnight Stabling
Owner On Premises
Owners Live On Site! We Know What Our Horses Want 24 Hours A Day
Pasture
Pasture Board
Pastures
Peaceful & Quiet Setting
Peaceful And Relaxing
Personal Attention Given To Each Horse And Human
Personalized Care
Personalized Horse Boarding Options Including: Grooming
Ponies
Pony Club
Private Riding Lessons
Problem Horses
Quality Care
Reining
Relaxed Environment
Renee Is A John Lyons Certified Trainer
Retirement With Full Care
Riding
Riding Clinics
Riding Lessons
Riding Lessons for Adults
Riding Lessons for Children
Riding Trails Available
Round Pen
Saddleseat
Safety Courses
Senior Horse Care
Special Events
Stables
Staff Lives Onsite
Stall Boarding
Stallions
Starting Horses
Supporting All Breeds And Riding Styles
Team Penning
Team Roping
Therapeutic Riding Program
Trail
Trail Rides
Trail Riding
Trailer Parking Available
Trails
Trainer On-site
Training
United States
Veterinary Care
Wash Rack
Wash Racks
We Live On Site
Weddings
Weekly Stays
Western
Western Pleasure
Young Horse Training
Young Riders Welcome
Youth