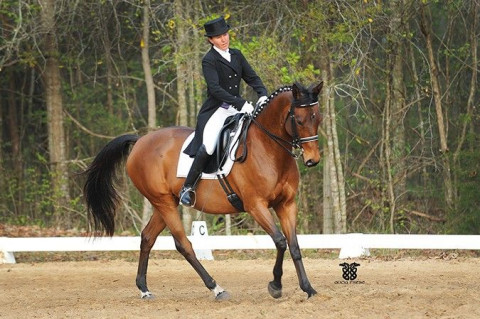 I hold a BS in Equestrian Teacher/Trainer from Lake Erie College in Ohio. I finished my USDF Bronze Medal and Silver Medal on horses that I have trained. These horses all had various background. I am currently competing at FEI Intermediare 1 on a horse I trained, bred, and raised. My students have also excelled in the show ring at their various levels and have placed and won year end awards with the DSDCTA. My current horse has won year end awards at 4th level, Prix St George, and Intermediare 1. I will work with all ages and levels of horses and riders. I stress classical basics in all my training of horse and rider and seek to develop a secure effective seat in my students. I want my horses and riders to develop a confident trusting relationship that forms a true partnership. I follow correct classical guidelines in my teaching and training. Newly located to Bit-N-Heaven Stables. This is a beautiful facility with plenty of turn out and an indoor arena. Feel free to contact me directly at or
Specialties
Acts As Agent In Your Search For Your Next Horse
Adult Amateurs & Beginners Welcome
Advanced Training for Horse & Rider
All Breeds Welcome!
Beginner
Beginner Adults And Children
Biomechanics
Boarding
Classical Dressage
Covered Arena
Creates Horses With Good Work Ethic
Currently Riding And Competing
Desensitization
Dressage
Dressage Clinics
Dressage Score Improvements
Dressage Show Coaching
Dressage Training
Eventing
Excellent Instructor
Exercising
FEI Dressage Training
First Level
Fourth Level
Full Grooming Services
Full Service Dressage Training
Gentle Approach
Gifted Teacher & Trainer With A Foundation In Classical Dressage
Goal Setting
Ground Manners
Ground Training
Ground Work
Groundwork
Haul Ins Welcome
Horse Boarding
Horse Leases Available
Horse Training
Increased Responsiveness
Junior Riders
Kids
Kind
Lesson Horses
Lessons For Children And Adults
Long Lining
Lots Of Turnout
Lunge Lessons
Lungeing/Line Driving/Dressage/Combined Training/Lessons & Train
Monthly Training
Novice Horses
Older Adult Riders Welcome!
Other Services Available
Personalized Programs
Pleasure
Positive And Upbeat Teaching Style
Private Riding Lessons
Problem Horses
Quarter Horse
Rehabilitation
Restarting After Injury
Sale Horses
School Horses Available
Schooling
Second Level
Stallion
Starting Dressage Horse Prospects
Suppling
Teaching
Teaching You How To Train Your Horse
Third Level
Trailer Loading
Training With The Horse In Mind
USDF
USDF Bronze Medalist
Warmbloods
Weekend Lessons
Western Dressage
Western Dressage Riders Welcome !
Will Travel to You
Young Horse Training
Young Riders