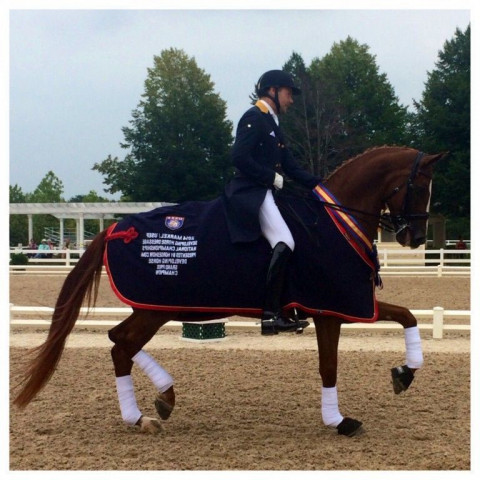 Endel Ots is a Bronze, Silver, & Gold medalist as well as a Bronze, Silver, & Gold Freestyle Bar Medalist. He has numerous National awards. A few include USDF Prix St. George Horse of the Year 2007 & USDF Intermedire Challenge award. He has numerous CDI wins among them CDI Dressage at Devon Intermediate 1 and Intermediate 1 Freestyle with over a 75%. Endel was the Alternate Rider for the Gold Medalist Pan Am Team of 2011. He was also the winner of the 2014 Developing Grand Prix National Championship. He works out of the Palm Beach Equine training complex, and has trained numerous horses to Grand Prix.
Specialties
Acts As Agent In Your Search For Your Next Horse
Adult Amateurs & Beginners Welcome
Advanced Training for Horse & Rider
All Breeds Welcome!
Beginner Adults And Children
Biomechanics
Boarding
Classical Dressage
Communication
Consultation
Covered Arena
Creates Horses With Good Work Ethic
Dressage Clinics
Dressage Score Improvements
Dressage Show Coaching
Eventing
FEI Dressage Training
First Level
Fourth Level
Full Grooming Services
Full Service Dressage Training
Gentle Approach
Gifted Teacher & Trainer With A Foundation In Classical Dressage
Goal Setting
Grand Prix
Ground Manners
Ground Training
Ground Work
Haul Ins Welcome
Horse Boarding
Increased Responsiveness
Kids
Lessons For Children And Adults
Lunge Lessons
Lungeing/Line Driving/Dressage/Combined Training/Lessons & Train
Monthly Training
Personalized Programs
Piaffer & Passage Training
Private Riding Lessons
Problem Horses
Re-training
Sale Horses
School Horses Available
Schooling
Second Level
Stallion
Starting Dressage Horse Prospects
Teaching You How To Train Your Horse
Third Level
Upper Level Dressage School Horse Available
USDF
USDF Bronze Medalist
Warmbloods
Will Travel to You
Young Horse Training
Young Riders