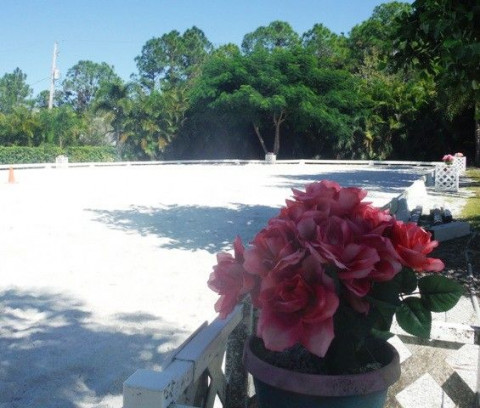 Welcome to Teamwork Dressage
Teamwork Dressage is a 2 barn, 11 stall boarding/training/lessons/sales dressage barn located at Jupiter FL. Our philosophy is: "We take the time to care."
Special offer for Fall 2018 and Winter 2019
We are excited to announce that we have 3 stables vacant for the winter season. If you would like to fill one or both stables we can off them at $1,500/month for the full season. These are not dry stables (unless you would prefer that). These stable are fully serviced with all the amenities that we accord to our own horses.
If you would like to add full Training ($1,200) or part time Training ($600) we will reduce the Board to $1,250/month.
We also offer full showing availability at both Schooling and Recognized dressage shows.
In addition we have safe school horses available for lessons at all levels. We teach English Dressage, Western Dressage and Eventing Dressage.Give yourself a Christmas dream come true!
Our barn atmosphere is fun and friendly, all horses enjoy the shaded stables and powerful fans. We have six shade cloth covered sand yards attached to the stables and every horse can spend some time to relax, roll, play and chat to the neighbors.Turnout is available in a safe field, horses also can enjoy the 'horse walker' right after breakfast. We also have a round yard for horses to exercise, train or play. Our regulation sized sand arena is also half covered in shade cloth and is kept in top condition. Most importantly we welcome all levels of riders!
Come Join the Team
Specialties
Acts As Agent In Your Search For Your Next Horse
Adult Amateurs & Beginners Welcome
Advanced Training for Horse & Rider
All Breeds Welcome!
Beginner
Biomechanics
Boarding
Classical Dressage
Clinic In The US
Clinics
Creates Horses With Good Work Ethic
Currently Riding And Competing
Dressage Clinics
Dressage Lessons And Training Through Grand Prix
Dressage Sale Horses
Dressage Score Improvements
Dressage Show Coaching
Eventing
FEI Dressage Training
First Level
Fourth Level
Full Grooming Services
Full Service Dressage Training
Gentle Approach
Gifted Teacher & Trainer With A Foundation In Classical Dressage
Goal Setting
Grand Prix
Ground Manners
Ground Training
Ground Work
Groundwork
Group Classes
Haul Ins Welcome
Horse Boarding
Lessons For Children And Adults
Lunge Lessons
Lungeing/Line Driving/Dressage/Combined Training/Lessons & Train
Monthly Training
Natural Horsemanship
Novice Horses
Older Adult Riders Welcome!
Other Services Available
Para-equestrian
Personalized Programs
Piaffer & Passage Training
Pleasure
Private Riding Lessons
Problem Horses
Quarter Horse
Re-training
Rehabilitation Of Lameness
Restarting After Injury
Sale Horses
School Horses Available
Schooling
Second Level
Starting Dressage Horse Prospects
Suppling
Teaching You How To Train Your Horse
Third Level
Trail
Trail Riding
Trailer Loading
Training Western Dressage Riders And Horses
Training With The Horse In Mind
USDF
USDF Bronze Medalist
Warmbloods
Weekend Getaways
Weekend Lessons
Western Dressage
Western Dressage Riders Welcome !
Will Travel to You
Young Horse Training
Young Riders