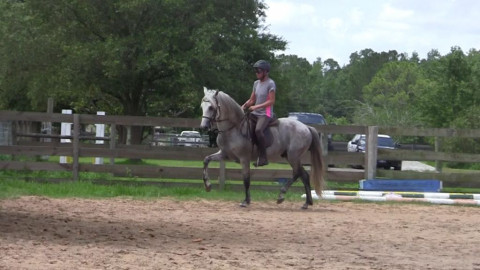 Training and Instruction with the horse mind. Applying classical principles for a happy solid horse, regardless of discipline.
Kim Robare trained for 10 years with Bettina Drummond
who was trained by the master Nuno Oliveira.
Currently she travels regularly to Portugal to study with
Manuel Jorge de Oliveira
Offering training tools for a good foundation and/or solving problems. From basics to advanced work. Cavaletti and gymnastics lessons also available.
All levels, ages and disciplines welcome!
- Training and retraining
- Coaching and Instruction
- Break ins
- In hand lessons
- Ship ins for lessons
- Travel to your farm
- Clinics
- Workshops
- Layups/rehabs with 24 hour care, 25 year experience
Specialties
Acts As Agent In Your Search For Your Next Horse
Adult Amateurs & Beginners Welcome
Advanced Training for Horse & Rider
All Breeds Welcome!
Biomechanics
Classical Dressage
Clinics
Communication
Consultation
Creates Horses With Good Work Ethic
Dressage Clinics
Eventing
Full Service Dressage Training
Gentle Approach
Ground Manners
Ground Training
Ground Work
Haul Ins Welcome
Increased Responsiveness
Kind
Lessons For Children And Adults
Long Lining
Lots Of Turnout
Lunge Lessons
Lungeing/Line Driving/Dressage/Combined Training/Lessons & Train
Monthly Training
Novice Horses
Older Adult Riders Welcome!
Personalized Programs
Piaffer & Passage Training
Pleasure
Positive And Upbeat Teaching Style
Private Riding Lessons
Problem Horses
Re-training
Rehabilitation Of Lameness
Restarting After Injury
School Horses Available
Stallion
Suppling
Teaching You How To Train Your Horse
Trailer Loading
Training With The Horse In Mind
Weekend Lessons
Western Dressage
Will Travel to You
Young Horse Training
Young Riders