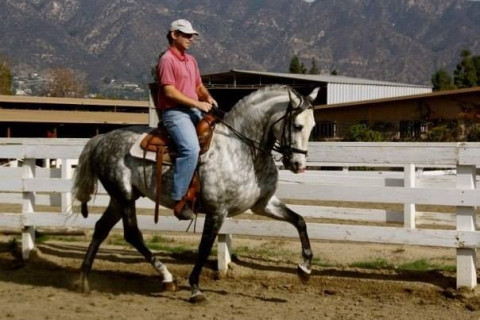 Yoni Rue is offering horseback riding lessons, horse training, and horse starting and breaking. His expertise is in dressage, western dressage, and breaking, but he has experience with hunter/jumpers, saddleseat, reining, and western pleasure. He has been riding for 16 years and has trained with Olympian Jaye Cherry (student of Hilda Guerney), German dressage master Johannes Westendarp, a student of the reining champion Craig Johnson, Geisla Festerling (daughter of German Olympic Coach), and international grand prix jumper Richard Spooner. And he has also attended Charlotte Dujardin and David Jay clinics. He got his start working for a student of the incomparable Albert Ostermaier and specialized working with problem horses and rebreaking poorly started horses.
In addition to his training expertise, Yoni has additional training in farriery to provide trimming services. He specially trained at Rood and Riddle with their certified journeymen farriers for 6 months to provide advanced podiatry knowledge to better the care he can provide for his clients.
Yoni is based out of Red Hill Stables located in Elletsville, IN, but will travel to accommodate clients. He can provide lesson horses at Red Hill Stables but would require own horse if traveling to you. He frequently travels to Lafayette, Columbus, and surrounding areas. Please visit his website and facebook page to find more information or feel free to contact him via phone or email with questions.
Specialties
Acts As Agent In Your Search For Your Next Horse
Adult Amateurs & Beginners Welcome
Advanced Training for Horse & Rider
All Breeds Welcome!
Andalusian
Beginner Adults And Children
Biomechanics
Classical Dressage
Covered Arena
Creates Horses With Good Work Ethic
Dressage Clinics
Dressage Score Improvements
Driving
Farrier
First Level
Full Grooming Services
Full Service Dressage Training
Ground Manners
Ground Training
Ground Work
Haul Ins Welcome
Kids
Lessons For Children And Adults
Long Lining
Lunge Lessons
Monthly Training
Older Adult Riders Welcome!
Private Riding Lessons
Problem Horses
Quarter Horse
School Horses Available
Second Level
Stallion
Starting
Starting Dressage Horse Prospects
Teaching You How To Train Your Horse
Third Level
Trail
Trail Riding
USDF
Warmbloods
Western Dressage
Will Travel to You
Young Horse Training
Young Riders