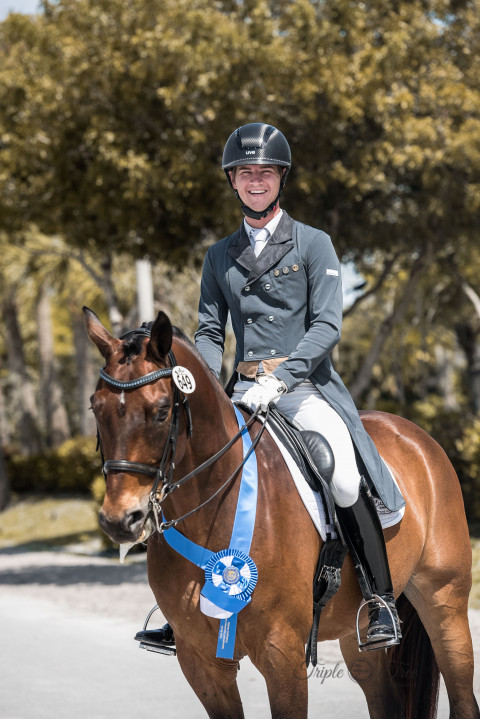 Leif Aho is an international trainer & competitor as well as a USDF Gold, Silver & Bronze medalist all earned on self trained horses.
Leif is a kind and tactful trainer that understands his horses very well and trains them all as individuals. He does NOT train LDR or rollkur, instead he teaches his horses to reach into the bit, push from behind and to be light and supple in his hand and off his aids.
Leif has brought several horses to the Grand Prix and has earned scores as high as 76.8% with his current FEI mount Classy Sinclair in intermediare-1 freestyle in 2019 and scoring a 76% in the I-2 in 2020, and a 68% in their first Grand Prix weekend in 2021 with FEI 4* judge.
Leif Aho trains with USA Olympic medalist Allison Brock as well as bio-mechanics specialist Mary Wanless.
Leif has trained a variety of breeds including Friesians, Thoroughbreds, Andalusian's, Lusitano's, Arabians and Warmbloods.
We offer boarding, training & riding lessons on your horse or ours on our private farm in Loxahatchee Fl with a covered arena and covered round pen. Leif also travels to nearby farms for lessons and training.
Specialties
Acts As Agent In Your Search For Your Next Horse
Adult Amateurs & Beginners Welcome
Advanced Training for Horse & Rider
All Breeds Welcome!
Biomechanics
Boarding
Classical Dressage
Covered Arena
Creates Horses With Good Work Ethic
Dressage Clinics
Dressage Score Improvements
Dressage Show Coaching
FEI Dressage Training
First Level
Fourth Level
Full Service Dressage Training
Gentle Approach
Ground Manners
Haul Ins Welcome
Horse Leases Available
Kind
Long Lining
Lunge Lessons
Natural Horsemanship
Older Adult Riders Welcome!
Private Riding Lessons
Sale Horses
School Horses Available
Schoolmasters Available For Lessons
Second Level
Stallion
Teaching You How To Train Your Horse
Third Level
USDF
Warmbloods
Will Travel to You
Young Horse Training
Young Riders