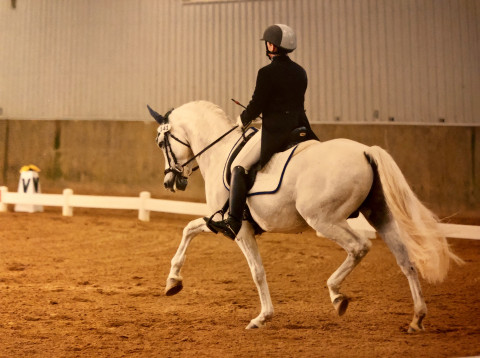 We are a full service equine facility offering boarding, training, showing and lessons.
FOM is in White Heath IL! We have taken over Sangamon River Stables. We offer full care board, Dressage, Event and Jumper training and lessons will be offered by Gold, Silver and Bronze Medalist Rachel Hill. Also Gilly McPhee will be offering Jumper, H/J, EQ, and English lessons and training. BEGINNERS welcome!
Our facility boasts a full size indoor dressage arena, mirrors, heated viewing room, mag flakes, and huge doors for lovely ventilation! There is a Olympic sized outdoor dressage arena, manicured to perfection. We have a huge jump field, roundpen, manicured trails that wind around Sangamon River, 3 heated tack rooms, 24 stalls, private or group turn out ON GRASS or a limestone paddock, 2 wash stalls (inside and out), open airy 12x16 and 12x12 stalls, individual tack cubby, NO DRAMA. We are children friendly and semi dog friendly (dogs need to go through an interview process). We feed hay 3-4 times daily, grain 2-3 times daily, stalls cleaned 1-2 times daily, hold for vet, farrier, and administration of meds. Supplements and blankets given at owners request, we fly spray when needed and we will fetch your horse in if they're running or seem under the weather.
This is the new home of El Mistico, FEI Andalusian breeding stallion and Debonair I-2 schoolmaster on his way to Grand Prix. We will be offering clinics, camps, and a few fun shows in 2019.
We are located 12 minutes from Champaign! Please call/text Rachel to schedule a tour!
Specialties
Acts As Agent In Your Search For Your Next Horse
Adult Amateurs & Beginners Welcome
Advanced Training for Horse & Rider
All Breeds Welcome!
Beginner Adults And Children
Biomechanics
Boarding
Classical Dressage
Covered Arena
Creates Horses With Good Work Ethic
Dressage Clinics
Dressage Score Improvements
Dressage Show Coaching
Eventing
FEI Dressage Training
First Level
Fourth Level
Full Grooming Services
Full Service Dressage Training
Gentle Approach
Ground Manners
Ground Training
Ground Work
Haul Ins Welcome
Horse Leases Available
Kids
Kind
Lessons For Children And Adults
Long Lining
Lunge Lessons
Monthly Training
Older Adult Riders Welcome!
Pleasure
Private Riding Lessons
Problem Horses
Sale Horses
School Horses Available
Second Level
Stallion
Starting Dressage Horse Prospects
Teaching You How To Train Your Horse
Third Level
Trail
Trail Riding
USDF
Warmbloods
We Offer Almost Any Service You Can Think Of!!
Young Horse Training
Young Riders