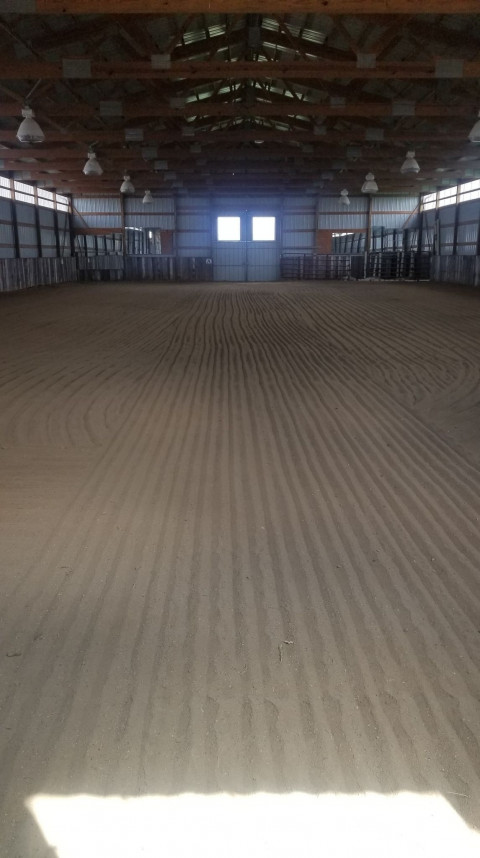 Ride under the guidance of FEI Grand Prix and USDF Bronze, Silver, and Gold medalist, Danielle Vitosh. Danielle has 24 years of riding experience with three of those being spent traveling the US working under other trainers and gaining valuable riding experience on a variety of horses. She also spent a period of time in Germany working for the Hannovaner Verband auction, riding their auction horses and lessoning under expert coaches. Danielle has worked with multiple different breeds in addition to warmbloods in her career and follows the Team Tate Academy motto that dressage should improve the horse's way of going. Specializing in starting young horses, Danielle's program focuses on a clear, strategic beginning that sets the horse up to be an independent, confident partner. Danielle still currently consistently lessons with FEI international competitor, Jessica Jo Tate. Staying current in her own riding and education is extremely important to her as gaining new tools allows her to be able to directly address any roadblocks a pair might encounter. Her education has also been influenced by Charles de Kunffy, Scott Hassler, Hans Heinrich, Debbie McDonald, Allison Springer, Clark Montgomery, Ian Stark, and she also had the privilege to sit in on private lessons with Allison Brock.
Client Testimonials:
After being in training for a short time my horse came back more supple, more on the aids, and overall a happier partner. She took the time to tailor her training to best set him up for success. -ES
Danielle's expertise and knowledge will advance your riding to the next level and beyond. Her loyalty to helping you become a better rider is unsurpassed. – RC
Specialties
Acts As Agent In Your Search For Your Next Horse
Adult Amateurs & Beginners Welcome
Advanced Training for Horse & Rider
All Breeds Welcome!
Biomechanics
Boarding
Classical Dressage
Covered Arena
Creates Horses With Good Work Ethic
Dressage Clinics
Dressage Score Improvements
Dressage Show Coaching
Eventing
FEI Dressage Training
First Level
Fourth Level
Full Service Dressage Training
Gentle Approach
Ground Training
Ground Work
Haul Ins Welcome
Kids
Kind
Long Lining
Lunge Lessons
Monthly Training
Older Adult Riders Welcome!
Private Riding Lessons
Prix St. George, Intermediare, Grand Prix, Beginner Novice Level
Sale Horses
Second Level
Stallion
Starting Dressage Horse Prospects
Teaching You How To Train Your Horse
Third Level
USDF
Warmbloods
Young Horse Training
Young Riders