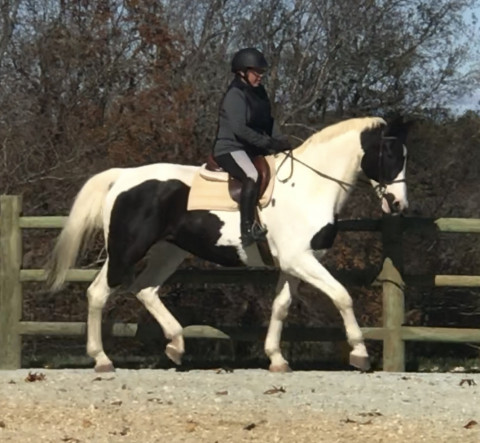 Leg Up Stables is primarily a competitive Hunter/Jumper barn that offers full care boarding with daily turnout along with training for the beginner, intermediate and advance students located on 70 acres. Technical training along with learning the feel of the horse gives the student a complete education with the potential to truly become one with the horse. Dressage is taught up to Second Level and all students are instructed in basic Dressage, whatever their discipline, whether they plan to show or simply pleasure ride. Off premise shows are encouraged by not necessary and students attend both local and circuit shows up to AA. Quality school horses are provided but riders are encouraged to ride their own horses if able to do so. Lessons are provided in Dressage, Hunters and Jumpers . The property has outdoor jumping arena, large outdoor Dressage arena and indoor facilities along with perimeter trails with jump options. Lessons are taught six days a week in all weather from March to December for non boarders and year round for boarders. Clinics are hosted in the areas of Dressage, Hunter and Jumper
Nina began her experience in Pennsylvania on the family farm . When the time came for formal lessons Nina began her tutelage under Ms. Violet Haines of Gwynedd Valley . Ms Haines( PA's Horseman of the year 1986). Nina continued her experience through Hunter and Equitation in the show circuits of Eastern Pennsylvania. In her teens Nina was introduced to the Jumper circuit through Mr. Ralph Sims (Head of Skidmore College Riding Program for over 20 years) of Saratoga Springs New York. Under his strict instruction Nina rose to the Intermediate Jumper Division. Nina began teaching in her late teens and has continued to today.
A graduate from Delaware Valley of Science and Agriculture Majoring in Animal Husbandry specializing in Equine Studies rounded out her equine knowledge. Nina has continued to learn , show, fox hunt and love horses.She continues to show herself in Dressage, Hunters, Jumpers and Eventing.
Specialties
5-day A Week Training
A Shows
Adult Beginners Welcome!
At Home And Away USEF Sactioned Shows
Beginners Welcome!
Combined Training
English Riding Disciplines
Eventing
Excellent Care
Full Care
Full Service Boarding/training Facility
Group Hunter Jumper Lessons
Horse Sales And Leasing
Horse Training
Horsemanship
Hunt Seat Equitation
Hunter Circuit
Hunter Jumper Clinics
Hunter Jumper Horse Sales
Hunter Jumper Horses For Lease
Hunter Jumper Lessons
Hunter Jumper Show Coaching
Hunter Jumper Show Team
Hunter/Jumpers
Hunters
Hunters And Jumpers
Hunters/jumpers
Jumpers
On Site Facility Manager
Personal Training Programs
Private Hunter Jumper Lessons
Professional Lesson Program With Safe
Riding Instruction
School Horses
Starting Young Hunter Jumper Horses
Student Competitions
TB Horses Off The Track
Thoroughbred
Training Board
Warmbloods