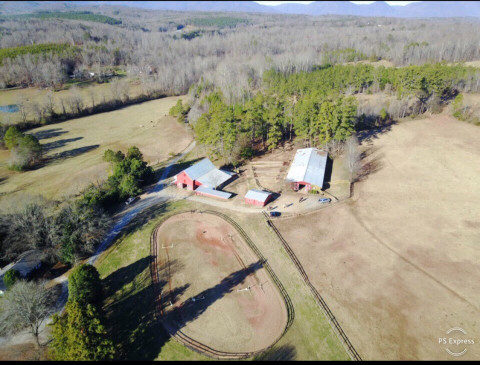 BOARDING, SERVICES, AND FACILITIES
Cherokee Hill Farm is a full service 100 acre TRYON horse farm, serving our communities for 35 years. We offer all needed equine services, riding school with hunt seat instruction from beginner to advanced, training and starting horses under saddle, exercise riding, leasing for students, full time experienced groom available, coaching, and transportation.
BARN, LOCATION, AND TRAILS
Located adjacent to the Foothills Equestrian Nature Center (FENCE), our bridle paths on the farm lead directly into FENCE, a 380 acre facility. Our farm is on the FETA Trail System. You will be eligible to join FETA, and ride their 140 mile trail system, FETA trail on farm. Our 1500 sqft cottage is available for 4 guests! Train and stay with us!
The main stable is 200 feet in length, and features a twenty foot wide center isle, providing for ease and safety while handling your horse. This stable contains 25 box stalls which are 12'X12' including those with in and out capability onto adjacent paddocks. The stable has a hot water wash rack, two tack rooms, tack cleaning facilities, and toilet. Our second stable includes 7 Warmblood stalls with yoke stall gates and 4 Arab or pony sized stalls. It offers 3 tack rooms and wash rack also. Our farm includes a 250' X 125' Hunter Ring, as well as an over 1000' Outside Course nestled into the Foothills of the Blue Ridge.
Our full board includes feeding two meals per day, daily turnout, a box stall with bedding and daily cleaning, hay, and blanketing service. We provide a late night hay meal as well for all horses and top off ten gallons of water in each stall. We offer special rates for short term stays, such as for weekend shows at the Fence Show Grounds, Fox Hunters Week, or for special get a way vacations. Come ride with us during the fall foliage season.
EQUINE REHABILITATION SERVICES
Equine Rehabilitation Services are a specialty of our farm. We offer specialized services for horses requiring specialized care. Our farm is served by Tryon Equine Veterinary Hospital which is located 5 minutes from our location
CALL AHEAD RIDING AND CONCIERGE SERVICE
Boarders may request that their horses be held in their stalls, rather than be turned out, by placing a phone call the day before the morning they wish to ride. This Call Ahead feature saves time, and gets you onto the trail or to your morning workout sooner.
Boarders who wish to save a maximum of time and effort, may also use our Concierge Service. When you Call Ahead, just tell us to have your horse groomed, tacked, and ready to ride! When you return to the barn, just hand the reins to one of our staff, and your horse will be cleaned, groomed, and returned to his pasture or stall. Your tack will be wiped down, and returned to its place in the tack room. Concierge Service is billed on a per ride basis, and will be added to your monthly invoice.
HORSE TRAINING
Cherokee Hill Farm has specialized in training primarily pleasure horses, and field hunters, and we will start and saddle break any breed of horse, including all gaited breeds. Resistance Free training methods are utilized assuring a pleasurable experience for your horse, and rapid results. Special training board rates are offered.
RIDING INSTRUCTION
Our riding school is especially well suited to the beginning rider. Our school horses are well experienced, gentle, calm, and are knowledgeable regarding beginning riders and their educational needs. Mike's training is in classical hunt seat, having trained in New Jersey with several internationally known instructors, and also having participated in clinics at the USET at Hamilton Farm. Mike's training also includes European experience with Mr. P.H. Gilbert, at his Glenrothes Riding Centre, Fife, Scotland. He has enjoyed hunter pacing in NC as well, and he is a two time Field Hunter Champion of the Western North Carolina Hunter Pace Series. Hunt Seat Lessons for children are a specialty of our farm, and lessons are available both after school and on weekends. Students 4 years old and up are accepted for training. Special instruction rates for children are offered, as well as an introductory special for a beginners first lesson.
LEASING
Our riding school horses are available for our students to lease by the month, day, or hour. Boarders may also book horses for qualified equestrian friends to ride with them, as guests on the FETA trail system. Our lease horses include both Appendix and Quarter Horses, as well as a Warmblood. All are trail experienced.
ABOUT US
Cherokee Hill Farm is owned and operated by Mike & Linda Schatzberg. They moved here more than 35 years ago, relocating their farm from Chester, NJ, to Tryon, and established their boarding, training, and riding school in Old Hunting Country. Cherokee Hill Farm, located on Hunting Country Road, is the oldest, continuously operating boarding farm in Old Hunting Country. Besides the 200 foot long upper stable, you will also find the double hayloft lower barn. The upper stable has twenty-five stalls, hot and cold wash racks, two tack rooms, an office, feed room and ample storage for shavings and hay. The horses are afforded nearly 60 acres of turn out in five pastures.
Mike and Linda since moving here have been very active and involved in the local community. Mike is a charter member, former treasurer and field master for the Green Creek Hounds and is a past member of the Greenville County Hounds. The local Pony Club now known as the River Valley Pony Club was formed and started at Cherokee Hill Farm. It was known then originally as The TLC (Tryon, Landrum & Columbus) Pony Club, and the farm provided horses, facilities, and instructors to the new organization. Mike introduced young riders to foxhunting, riding with Juniors in both with the Green Creek Hounds and the Tryon Hounds hunts.
Specialties
1500 Sqft
2. Veterinary Available
4 Guests
Affordable Horse Boarding Rates
All Breeds And Disciplines Are Welcome
All Disciplines and Riding Levels Welcome
And Lessons Available.
And Providing Lessons For Beginner And Intermediate Rider
Arena
As Well As Individual Paddocks. Full Car
Beginner Lessons On Own Or School Horses.
Blanketing
Boarding
Broodmare And Foal Care
Daily Handling Of Horses
Daily Individual Turnouts
Daily Pasture Turn-out
Daily Stall Cleaning
Daily Turn Outs
Draft Horse
Education
English
English Pleasure
Equine Chiropractics
Equitation
Farrier Services
Full Service Boarding Facility
Full Tack Room
Geriatric Horse Care
Grass Fields
Great Care
Guest Cottage
Horse Injury Rehabilitation
Horse Leases Available
Horse Training
Horse Transport Available
Horseback Riding Lessons
Horses for Sale
Jumping
Layovers, Stopovers
Open 7 Days a Week
Outdoor Arena
Overnight Stabling
Pasture Board
Pastures
Private Riding Lessons
Retirement With Full Care
Riding Lesson Program
Riding Lessons
Riding Lessons for Adults
Riding Lessons for Children
Riding Trails Available
Stables
Stall Boarding
Trail Riding
Veterinary Care
Weekly Stays
Western
Youth